Iran
Commander: Iranian Naval, Ground Forces' Power Deters Enemies from Military Aggression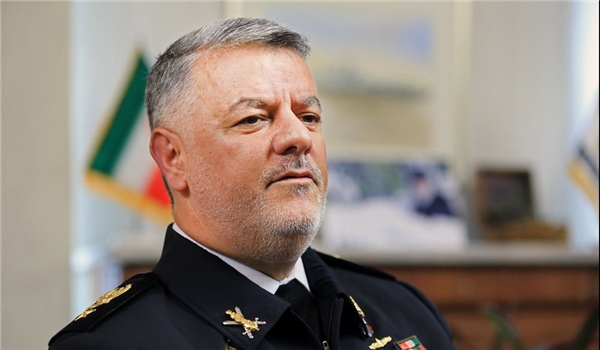 Iranian Navy Commander Rear Admiral Hossein Khanzadi underlined that high deterrence power of the country's Armed Forces has discouraged enemies at military aggression.
The enemy never dares to attack Iran thanks to combat readiness of the Iranian forces at sea and on the ground, Rear Admiral Khanzadi said, addressing a meeting in the Northeastern city of Mashhad on Thursday.
The Americans are well-known as aggressors with records of aggression on several states and they have killed 800,000 native people in their civil war, he added.
Rear Admiral Khanzadi said that the United States is the only country in the world which has used nuclear weapon, encouraged the Iraqi dictator Saddam Hussein to invade Iran, created ISIL terrorist group to cause bloodbath and never hesitates to ignite conflict across the world.
During eight years of sacred defense with Iraq, many countries backed Saddam Hussein, but, in the end it was Iran that won the battle and that the role of the Iranian Navy was very significant, the commander said.
He said that the enemy is now exerting economic pressure to break the people's unity, but to no avail.
In relevant remarks in May, Rear Admiral Khanzadi underscored his country's high deterrence power, saying that enemies did not dare to launch war against Iran.
"If we look at the today's complicated security atmosphere and days, we observe that the enemy has lined up all its instruments near the Islamic Republic borders, but the Supreme Leader of the Islamic Revolution (Ayatollah Seyed Ali Khamenei) firmly says that there will be no war," Rear Admiral Khanzadi said in the Northern city of Anzali.
"This shows the Leader's upper hand in information and awareness about the Islamic Republic's deterrent power against enemies, and the Islamic Republic Armed Forces play a pioneering role in this deterrence," he added.
Rear Admiral Khanzadi also said the US military buildup in Northern Indian Ocean is only meant to play an act of horror and intimidation, but to no avail.