Iran
Commander: IRGC Air Force Capable of Setting Fire to All Enemies' Interests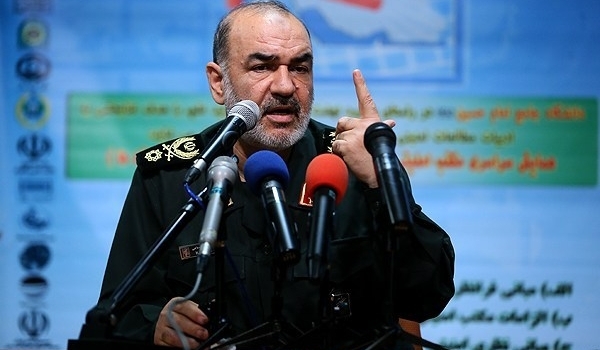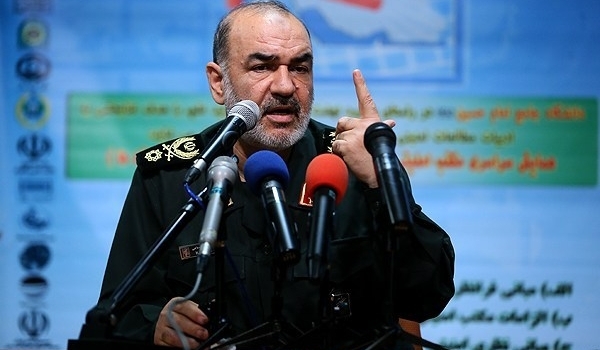 Lieutenant Commander of the Islamic Revolution Guards Corps Brigadier General Hossein Salami threatened the enemies that the IRGC Air Force can annihilate all their interests in case they make the slightest aggression against Iran.
"We have reached a powerful defensive and deterrent power in a way that today the IRGC Air Force will set heavy fire to any point that it wants and the Navy also enjoys the capability to destroy the enemy," Salami said, addressing a gathering of the IRGC commanders and officials in Tehran on Tuesday.
He also said that Commander of the IRGC Quds Force Major General Qassem Soleimani has managed to push the enemy's political and economic capacities towards demise.
Salami underlined that Iran has also been able to defuse enemies' plots and policies in the region and stop their activities in distant regions by creating new fields.
In relevant remarks in July, Salami played down the US officials' war rhetoric against Iran, warning that Washington knows its slightest hostile move would receive a crushing response.
"Today the US knows that the slightest move against the Islamic Iran will ruin its house of dream," Brigadier General Salami said.
He pointed to the US officials' catch phrase "all military option are still on the table" even after the Vienna nuclear agreement, and said, "The Americans have always resorted to bullying because they lack diplomatic skills… ."
On May 7, Brigadier General Salami stressed that the country had prepared itself for the worst case scenario.
"We have prepared ourselves for the most dangerous scenarios and this is no big deal and is simple to digest for US; we welcome war with the US as we do believe that it will be the scene for our success to display the real potentials of our power," Salami said in an interview with the state-run TV at the time.