Iran
Middle East
Commander: IRGC Ground Force Focusing on Flood-Hit Areas in Southern Iran
Commander of the Islamic Revolution Guards Corps Ground Force Brigadier General Mohammad Pakpour announced that his forces are using all their power and possibilities to prevent the spread of flood to more regions in Khuzestan province in Southern Iran and decrease its impacts.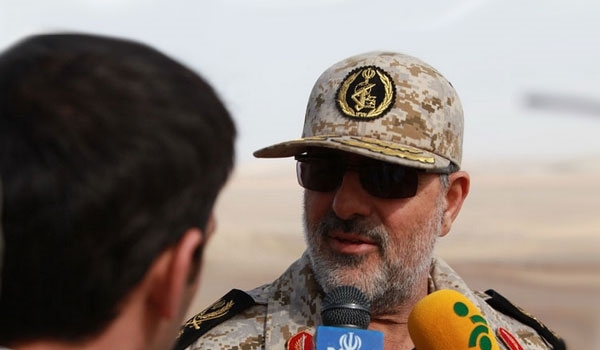 "The IRGC Ground Force's possibilities have been focused on confrontation against flood and defend the dear people in Khuzestan province," General Pakpour said while visiting the flood-stricken areas in Ahwaz city, the capital of Khuzestan province, on Thursday.
He added that engineering units, field hospitals and needed equipment have been prepared in the province to confront flood.
Over three weeks after the start of the unprecedented heavy rains and floods in Iran, many dams in the country are swelling with rising rivers.
In Isfahan province near the borders with Markazi and Lorestan provinces, Golpayegan Dam was announced full on March 31 and the people residing in the areas near the downstream of the dam were ordered to evacuate their homes and keep distance from areas on the river banks.
In Khuzestan province, Karkheh Dam has been discharging water in the past week to manage the huge amount of inflow it is receiving due to heavy rains in Lorestan, Khuzestan, and Kuhkiluyeh and Buyerahmad provinces.
The tragedy started in the four Northern provinces of Mazandaran, Golestan, Semnan and North Khorassan on March 20. Thirty provinces of Iran have been hit by severe weather conditions since then.
Popular rescue teams are formed in all major cities of the country, dispatching units of relief providers to flood-hit areas.
The IRGC has pledged to boost hope and raise morale among the people of the flood-hit regions in Iran with offering food, relief aid, and housing to restore normalcy to everyday life in the battered cities.