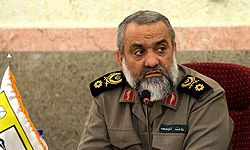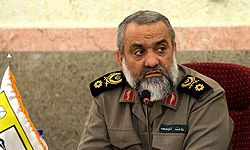 A senior Iranian commander underlined the role of Basij (volunteer) forces in deterring enemy invasion of Iran, saying that Basij is fully prepared to confront all types of enemy threats against the country.
"Although the world arrogance and enemies of the Islamic establishment have surrounded our country through their (military) presence in the neighboring countries and intend to cross Iran's borders, the existence of brave Basij forces has already divested them (enemies) of the courage and power needed for trespassing Iranian borders," Commander of Basij Forces Brigadier General Mohammad Reza Naqdi said in Iran's western city of Sanandaj today.
He warned about the various plots hatched by the enemies to sow discord among the Iranian nation, and pointed to the growing trend of production of narcotics in Afghanistan since the occupation of the country, and noted, "All these plots are aimed at hitting a blow at this Islamic ruling system and targeting the youth of this land."
"They (enemies) do not care about Kurds, Arabs, Persians or non-Arabs," Naqdi said, and added, "Rather they have targeted all the Iranian peoples" because their target is the Iranian nation which is formed of these peoples.
Last year, Commander of the Islamic Revolution Guards Corps (IRGC) Mohammad Ali Jafari stated that the IRGC is preparing infrastructures for confronting military, hard and soft threats, adding that the IRGC had entrusted the duty for confrontation against soft threats to the Basij forces.
Jafari said that fighting enemies' soft threats is the most important task of the Basij forces.
"Today, the most important and main mission of Basij is confronting the soft threats and cultural invasion which is stealthily targeting the (Iranian) youth," Jafari said.