Iran
Commander Reiterates Basij's Role in Confronting Enemies' Soft War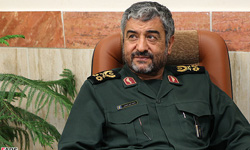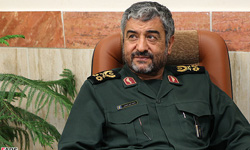 Commander of the Islamic Revolution Guards Corps (IRGC) Major General Mohammad Ali Jafari underlined that Basij (volunteer) forces play a key role in defusing enemies' soft plots against Iran.
Addressing a large gathering of Basij forces here in Tehran on Thursday evening, Jafari pointed to a new formation within the Basij forces known as Salehin Circles, and stated, "One of the main strategies for confronting the soft war of the enemy in cultural, political and social fields is the formation of Basij's Salehin circles."
He added that members of Salehins are taught properly how to confront enemies' cultural, political and social aggression against Iran.
In December, a commander said that the IRGC is using 90% of its possibilities in Tehran for thwarting enemies' soft plots.
"Over 90% of the IRGC's possibilities in Tehran have been allocated to soft warfare mechanisms," Former Commander of Mohammad Rasoul Allah Corp General Hossein Hamedani said at the time.
Supreme Leader of the Islamic Revolution Ayatollah Seyed Ali Khamenei had also on many occasions warned about the enemies' soft-war plots to undermine Iran's resolve towards progress.
In November 2009, he underlined the necessity for proper measures to repel enemy's soft war against Iran.
"Today, the main priority of the country is to confront (enemy's) soft warfare which is aimed at creating doubt, discord and pessimism among the masses of the people," Ayatollah Khamenei said, addressing a large and fervent congregation of Basij (volunteer) forces at the time.