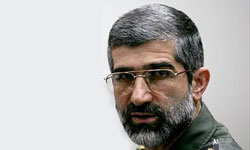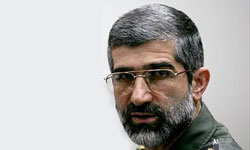 A senior Iranian commander on Tuesday said the country is now in the best possible conditions of defensive preparedness, specially considering the increase in its hi-tech equipment and systems as well as the progress and advancement of its communication systems.
"We are in the best possible conditions of defensive preparedness after we employed tens of new systems, air-to-ground missile systems, multilayer communication and radar super systems," Commander of Khatam ol-Anbia Air Defense Base Brigadier General Ahmad Miqani said here in Tehran today.
Referring to the optimization and modernization of Iran's defense systems, Miqani reiterated that modernization of the country's defense systems is making very good progress, and said that Iranian systems can compete with the world's modern hi-tech systems.
He also underlined that the country's experts have succeeded in building hi-tech missile defense systems capable of tracing and intercepting Cruise Missiles.
Miqani pointed to the enemies' plots to hit a blow to the Islamic Republic and said," The enemies after 30 years of strong threats are now seeking to pose intelligent and soft threats (against Iran) and after imposing the threat they are now endeavoring to hit the Iranian nation's solidarity and sow discord among the Iranians."
He expressed the hope that enemies' threats and plots would be defused by the Iranian nation's vigilance and awareness using the guidelines of the Supreme Leader of the Islamic Revolution, Ayatollah Seyed Ali Khamenei.
Tehran launched an arms development program during the 1980-88 Iraqi imposed war on Iran to compensate for a US weapons embargo. Since 1992, Iran has produced its own tanks, armored personnel carriers, missiles and fighter planes.
Yet, Iranian officials have always stressed that the country's military and arms programs serve defensive purposes and should not be perceived as a threat to any other country.
The Iranian Air Force produced a new training fighter jet named 'Kosar' earlier this month which is a joint production of the Defense Ministry and the Armed Forces' Aviation Industries.
Iran successfully tested a home-made radar-evading Unmanned Aerial Vehicle (UAV) with bombing capabilities in June. Also last year, the country's Defense Industries launched production lines of two well-known home-made fighter jets, namely Saeqeh (Thunderbolt) and Azarakhsh (Lightening).