Iran
Commander: US Intention of Invasion Deterred by Iran's Home-Grown Military Power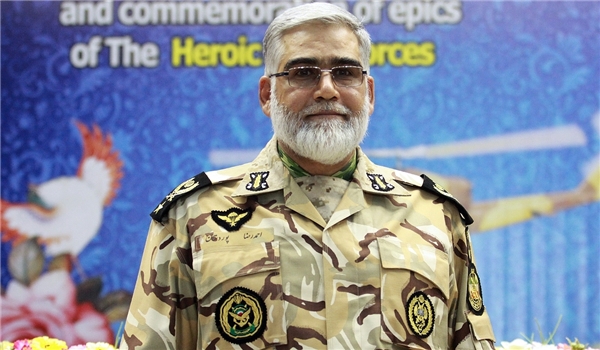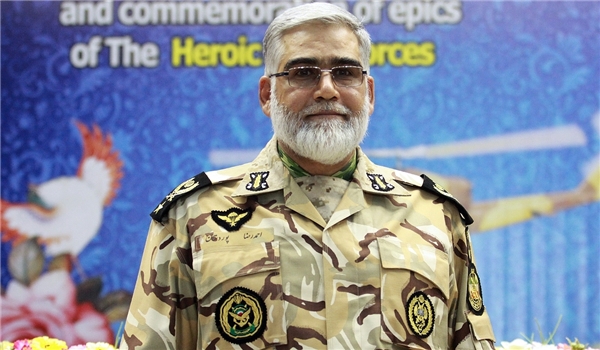 Iranian Ground Force Commander Brigadier General Ahmad Reza Pourdastan underlined that the country's enemies do not dare to attack Iran due to the domestically-grown deterrence power of its Armed Forces.
"We have home-made weapons and equipment, and the preparedness of our Armed Forces caused the (US-led) coalition forces who were close to our borders not to dare to attack us," Brigadier General Pourdastan said on Sunday.
The Iranian Ground Force commander underlined that the US has changed its war tactics and has resorted to proxy wars due to the preparedness of the Army, IRGC and Basij (Volunteer) forces.
"After the September 11, 2001, the US had not come to only capture Iraq and Afghanistan… , but their main intention was Iran; but they could not do anything due to Iran's power," Brigadier General Pourdastan said.
Last week, Iranian Defense Minister Brigadier General Hossein Dehqan underlined the country's military manufacturing power, saying Iran has lowered the time for the production of various military systems from 7 to 2 years.
"Today, our progress in the research sector has led to the development of defensive products manufacturing technologies and we can build any weapon that the Armed Forces need," Dehqan said, addressing a ceremony in the Southern city of Shiraz.
Noting that the time needed for designing and building defensive systems in Iran has decreased from 7 to 2 years, he said, "This means that we enjoy huge infrastructures for manufacturing."
In relevant remarks on Wednesday, Deputy Chief of Staff of the Iranian Armed Forces for Logistics Major General Mostafa Izadi said the country was working on the architecture defense-security structure.
"At present, we, in the General Staff of the Armed Forces, are structuring the country and the Armed Forces' defensive-security system," Izadi said in Tehran.
In relevant remarks in 2013, a senior Iranian commander lauded the eye-catching and growing preparedness of the country's Armed Forces, and underlined that this growing trend must continue to keep Iran's deterrence power at the highest level possible.
The Iranian Army's Deputy Top Liaison, General Mohammad Hossein Dadras, underlined that both Iran and its enemies are well aware that the development of defensive products in the country has brought "real security" to the Islamic Republic, urging the Iranian experts to do their best for boosting country' deterrence power.
The commander added that the Iranian Armed Forces rely on indigenously developed defense equipment which has made the nation self-sufficient in the military sector.
He further said sanctions have made Iran's defense sector independent of foreign countries.