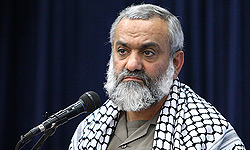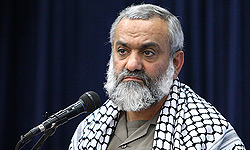 A top Iranian military commander said the US helplessness in the confrontation against Islam is the real cause underlying the burning of the Muslims' Holy Book by American soldiers in Afghanistan, and stressed that nothing but burning the White House and hanging the US commanders responsible for this cowardly action can relieve the Muslims' pain.
"The US has committed such an ugly action and burnt Quran because of the heavy slap it has been given by Islam," Commander of Iran's Basij (volunteer) force Brigadier General Mohammad Reza Naqdi said on Saturday.
He stressed Muslims' sensitivity to the crimes underway in Afghanistan by the US forces, and said Muslims do not accept the US apology, because it makes numerous military mistakes and then just asks for the Afghans' apology, and this is not acceptable.
"Nothing but burning the White House can relieve the wound of us, the Muslims, caused by the Burning of Quran in the US," he underscored.
"Their apology can be accepted only by hanging their commanders; hanging their commanders means an apology," he reiterated.
Obama has sent a letter to his Afghan counterpart Karzai, apologizing for the burning of copies of the Holy Quran.
In the letter, Obama has alleged that the incident, which has sparked angry protests against the US and NATO forces in Afghanistan, was not intentional.
At least 25 people have been killed and hundreds wounded since Tuesday, when it first emerged that copies of Quran and religious materials had been thrown into a fire pit used to burn garbage at Bagram Air Field.
Americans have set fire to the copies of the Holy Quran on several occasions thus far. Angry Afghans have staged increasing protests across the war-torn country since the US troops burnt the Holy Quran in their base in Afghanistan.