Syria
Complete map of Syrian War: end of June update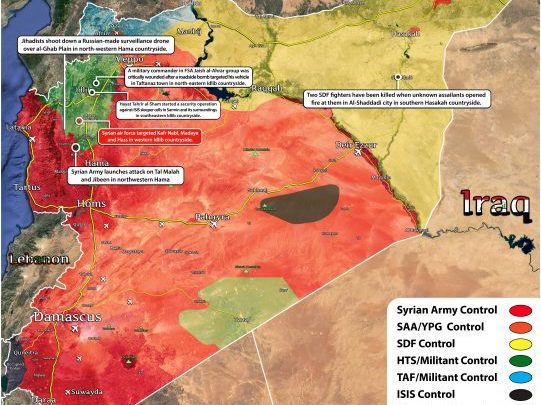 The month of June has been nothing short of a bloodbath as the Syrian Arab Army (SAA) and the militant forces traded several attacks in northwestern Syria.
Hama-Idlib Axis
The battle along the Hama-Idlib axis has been the costliest fight in Syria to date, as hundreds of Syrian Arab Army soldiers and militants have been killed over the past month.
The month started off in favor of the Syrian Army, with their troops retaking Kafr Naboudeh and reaching the Jabal Zawiya region inside southwest Idlib.
However, by the second week of June, the jihadist rebels had taken the initiative with a surprise offensive to capture the key hilltop of Tal Malah and the nearby town of Jibeen in northwestern Hama.
As a result of this advance, the jihadist rebels managed to impose fire control over the Mhardeh-Sqaylabiyeh Highway, forcing the Syrian military to shift to halt their offensive operations.
Since then, both the jihadist rebels and Syrian Army have traded offensives in a bid to retake the ground they lost; this has proven incredibly costly for both sides, as little ground has been retaken.
Northeast Latakia
At the start of the month, the Syrian Army was still on the offensive in northeastern Latakia; however, by mid-June, the military had halted its operation in favor of sending reinforcements to Hama.
The reason for halting the offensive was not only due to the pressing need of reinforcements in Hama, but also, the lack of progress in capturing the mountaintop town of Kabani.
For weeks, the Syrian Army launched attack after attack trying to penetrate the jihadist defenses, but Hay'at Tahrir Al-Sham and the Turkestan Islamic Party (TIP) were able to beat back all of their attempts.