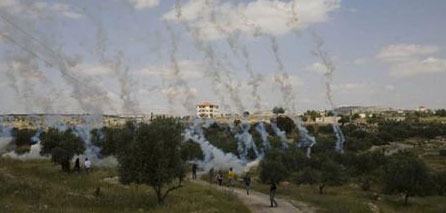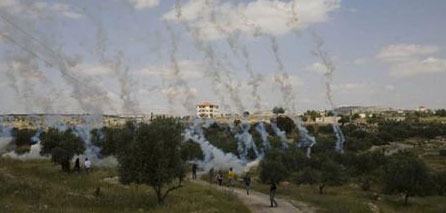 IOF troops confronted the weekly anti-wall demonstration by firing tear-gas and rubber-coated bullets causing tens of protesters to suffer breathing difficulties.
Local residents, peace activists and foreign sympathisers participated in the demonstration which was called for by the Popular Committee to Resist the Wall in Bilin.
Participants raised the Palestinian flag and the photos of Sheikh Ahmad Yassin and Yaser Arafat, as well as placards condemning the expansion of settlements and the demolition of Jerusalem homes.
Protestors called for a stop to the Israeli occupation policy of deportation and called for freeing all prisoners and lifting the siege imposed on the Gaza Strip. They also called for national unity and for holding to the Palestinian rights.
As the demonstrators approached the wall and tried to reach the village's confiscated land IOF troops who barricaded themselves behind concrete blocks started to fire rubber-coated bullets, stun grenades and tear-gas canisters at the demonstrators causing breathing difficulties to tens of demonstrators and starting fires in a number of fields that belong to the residents of the village.