Lebanon
Congratulations to Aoun for despising Zionist Tillerson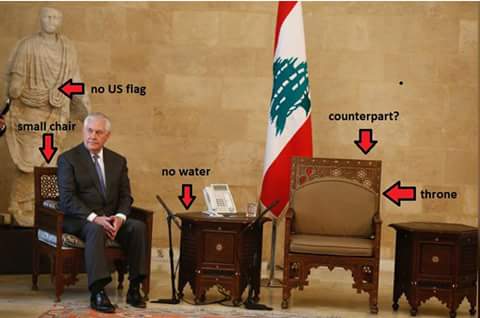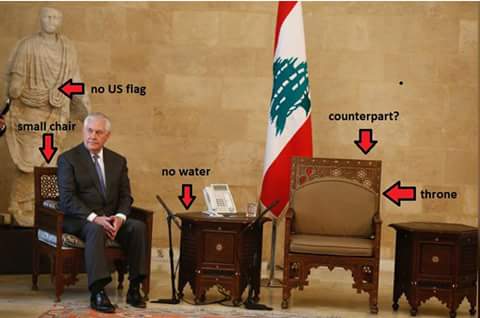 Lebanese President Michel Aoun urged the US to pile pressure on "Israel to curb its recent aggression infringing upon Lebanon's sovereignty," during his meeting with US Secretary of State Rex Tillerson Monday.
Tillerson's visit comes at the backdrop of heightened tensions between Lebanon and the Israeli occupying entity, which emanated in light of 'Israel' constructing a 23-foot concrete wall along the UN-demarcated Blue Line.
Aoun, who met with Tillerson at the Baabda presidential palace, emphasized on the need for the US and international community to play a mediating role in order to resolve the dispute and put a stop to "Israel's incursions along the southern and maritime border."
According to a statement released by the president's office, "the US and the international community must play an active role in preserving peace along the border," with Aoun indicating that Lebanon has shown restraint while "Israel continues its aggressive behavior."
Last week, the Zionist entity also escalated threats over Lebanon's invitation for offshore gas exploration bids along the countries' maritime border, claiming that Lebanon will be drilling in areas owned by the entity. Lebanese officials contest those claims, saying the area where it plans to drill belongs to Lebanon.
Speaking at a press conference following his meeting with Prime Minister Hariri at the Grand Serail, Tillerson underscored the US' alleged commitment and support for Lebanon, saying that "the U.S stands firmly by the side of Lebanon's legitimate institutions."
Tillerson also highlighted the importance of reaching a diplomatic solution with 'Israel' over the maritime dispute, as "the extraction of natural resources will further drive Lebanon on the path of prosperity."
"Hezbollah's actions, its growing arsenal, bring unwanted and unhelpful scrutiny on Lebanon," he said, before noting that the only legitimate force tasked with defending Lebanon is the Lebanese military.
In turn, Hariri affirmed Lebanon's right for exploration of its natural resources, deeming Israel's inflammatory rhetoric as hindering any sort of permanent cease-fire.
The Premier then expressed optimism in maintaining positive relations with neighboring Arab states, telling reporters that Lebanon has been abiding by the dissociation policy agreed up with the rival political parties, before praising "the banking sector which is the cornerstone of our economy."