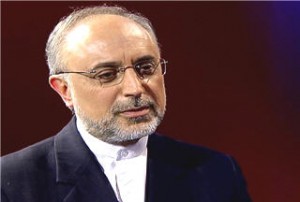 Head of Atomic Energy Organization of Iran (AEOI) Ali-Akbar Salehi says the Tehran declaration broke the global consensus led by the US to impose tougher sanctions against Iran.
"With the issuance of the Tehran declaration, the global consensus on US-led efforts to impose sanctions against Iran broke and the ball is now in their court," Salehi said.
"As they are facing problems on reaching a global consensus, even if a resolution against Iran is passed at the UN Security Council it will not be a strong one."
Salehi added that Iran wants objective guarantees and is ready for fuel swap as stated in the May 17 declaration in Tehran, IRNA reported.
Iran, Brazil and Turkey issued a nuclear declaration bases on which Tehran agreed to exchange its low-enriched uranium with reactor fuel on Turkish soil.
Just one day after the declaration, the US announced it was preparing to circulate a draft resolution among UNSC member states in order to convince them of the need for imposing a fourth round of sanctions against Iran.