Iran
Coronavirus a world problem, requires international cooperation: Rouhani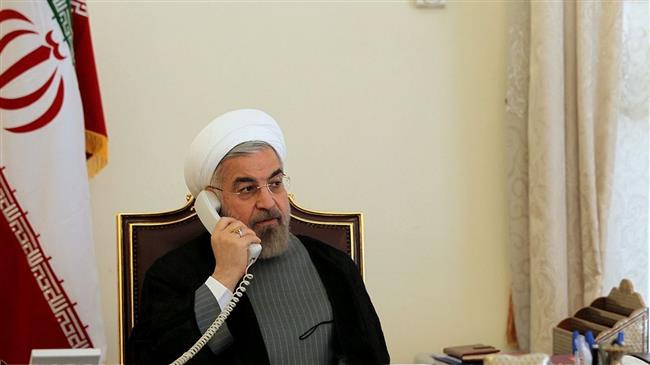 Iranian President Hassan Rouhani has said that the coronavirus (COVID-19) outbreak has "turned into a global problem" and that "all governments and nations" have to cooperate to counter it.
Rouhani, who made the comments during a phone call with Qatar's Emir Sheikh Tamim bin Hamad Al Thani on Saturday, said that "no country will be able to fully avoid the virus".
"All countries will consequently have no choice other than to share their experience and resources to counter this issue," he said.
The Iranian president added that "we look forward to expanding bilateral and regional medical cooperation with all countries in the region".
Highlighting the Health Ministry's special measures to contain the outbreak, Rouhani said Iran "is meticulously carrying out special medical protocols related to its trade activity and product exports".
According to the latest statement released by Iran's Health Ministry on Saturday, coronavirus infections have taken the lives of 43 Iranians, with a total number of 593 people being diagnosed with the disease across the country.
Iran coronavirus death toll climbs to 43 with almost 600 infectedIran says the number of the novel coronavirus cases has risen to nearly 600, with the death toll hitting 43.
Speaking with the Qatari Emir, Rouhani said that a "special medical protocol" has also been put in place to allow for the "resumption of normal flights between the two countries".
Qatar limited its flight services to Iran due to the coronavirus outbreak earlier this week.
Pointing to the Qatari emir's trip to Tehran last month, Rouhani said the event had been "successful" and expressed hope that a similar meeting in Doha can led to "more effective steps in developing mutual relations".
Regional security cooperation has no value without Iran: Qatari EmirQatar will never forget the Islamic Republic
"I hope that officials in the Joint Commission for Qatar-Iran Relations – which will be established next month – can lay the groundwork for developing mutual ties," he added.
Sheikh Tamim welcomed Rouhani's proposal for cooperation between the two countries' health ministries and the formation of a mutual medical protocol allowing trade and travel between the two countries.
"The country and government of Qatar see themselves by the side of the Iranian government and nation and will not hesitate to engage in cooperation and provide any support to fight this decease," he said.
Qatar's health ministry reported on Saturday the first case of coronavirus infection in the country, the state-run Qatar News Agency said.