Iran
Middle East
Coronavirus Travel Restrictions Imposed in 5 Iranian Cities
The Iranian president has approved a proposal to impose three-day travel restrictions in five cities hit hardest by the coronavirus outbreak, the health minister said.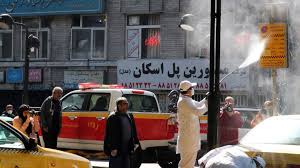 Speaking to reporters on the sidelines of a cabinet session on Wednesday, Saeed Namaki said President Hassan Rouhani has accepted his proposal for travel restrictions during the upcoming three-day holidays.
The travel bans would be imposed in five cities with the highest rate of infection, namely Tehran, Karaj, Mashhad, Isfahan and Orumiyeh, he added.
The health minister expressed hope that the restrictions would help curb the pandemic.
This week, the two-day weekend in Iran is followed by a holiday marking the martyrdom anniversary of the eighth Shiite imam, Imam Reza (AS).
While the authorities have warned people to stay home and abide by social distancing protocols to tackle the pandemic, many people plan to go on vacation on the weekend and national holidays.
The total number of people tested positive for COVID-19 infection in Iran has surpassed 510,000 and the death toll has exceeded 29,000.
Nearly all provinces of Iran have been declared as red zones -regions with high risk of contagion.