Europe
COVID-19 in UK: Anti-Lockdown Protesters Arrested Hours Before Tier 4 Announcement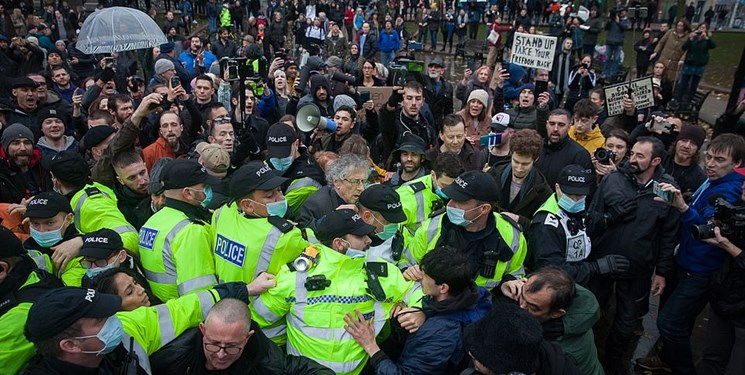 Police arrested anti-lockdown demonstrators in Central London after breaking COVID-19 restrictions, as five police officers were injured in the mass demonstrations across the capital.
Several hundred people gathered in Parliament Square Saturday afternoon, just hours before Prime Minister Boris Johnson announced new tighter restrictions for Londoners, The Independent reported.
The groups gathered close to the Houses of Parliament before marching across London, paying no attention to 'Very high alert' restrictions.
Additional police officers were deployed to encourage people to abide by the rules, and Scotland Yard warned protestors that officers would swiftly clamp down on those "wilfully and dangerously ignoring them".
On Saturday night, police confirmed 29 people had been arrested following the demonstrations across the city, and announced that "unacceptably" five officers were injured.
Their injuries were said to not be serious, according to Scotland Yard. Police also added that one male, was arrested for possession of a knife.
A Metropolitan Police spokesman stated, "To try and keep people safe, Met police have been engaging with our communities and protestors throughout the day. Some protestors have refused to observe the requirements made of them, and 27 arrests have been made. One male arrested was also found in possession of a knife."
Videos and photos on social media showed a lack of social distancing from protestors, and some were seen to be chanting "What do we want, freedom, when do we want it, now" and "power to the people" in videos shared online.
Protestors also gathered at Marble Arch later in the afternoon before marching along Oxford Street and through Central London.
Ahead of the weekend the Met Police urged people to abide by rules to stop the spread of Coronavirus.
Deputy Assistant Commissioner Laurence Taylor called on people to stick to the guidelines and not to "expose our communities at even greater risk during this pandemic".
He said, "Where we become aware of planned events that will breach regulations, we will try to engage with organisers or venues to make them fully aware of the restrictions that are in place to keep people safe."
"This is the final weekend before Christmas, so now is not the time for complacency. I know Londoners know what they should and should not be doing and I would urge everyone to act sensibly and do their part to keep our city safe," he added.
"This weekend we will ensure we deal with the activity of a few so as not to expose our communities at even greater risk during this pandemic," he continued.
Demonstrators gathered just a few hours before Johnson announced on Saturday that all areas of East and Southeast England – including London – that had been in tier 3 would go into the newly defined tier 4 from midnight.
Tier 4 effectively returns residents to the rules in place during the national lockdown.
Those in tiers 1, 2, and 3 are now only able to mix with other households for a Christmas celebration on December 25 instead of the longer stretch initially planned by the government.