Europe
COVID surge triggers lockdowns, angry protests in Europe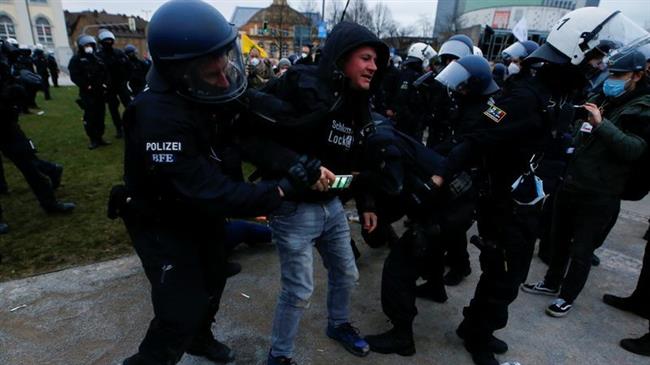 A sudden surge in fresh COVID-19 infections has afflicted Europe over the past weeks, prompting officials in several countries to order lockdown measures that have triggered angry protests.
Amid fears of a third wave of the COVID-19 pandemic, European countries have imposed new lockdown measures to curb the spread of the coronavirus as case numbers soar across the continent despite governments' vaccination efforts.
Scientists believe that the new wave of the pandemic was likely to increase while inoculations were insufficient and vaccination rates were still comparatively low in those countries.
Hungary, Bulgaria and Bosnia have imposed coronavirus restrictions in recent weeks to ward off the third wave of the pandemic.
In France, officials reported a 20% rise in traffic volume and train reservations as thousands of people tried to leave the French capital ahead of the lockdown on Friday.
In Poland, officials ordered a nationwide three-week lockdown on Saturday after a 44% week-over-week increase in the number of cases of the UK coronavirus variant.
Italy — which was the first country in Europe to impose a lockdown last year — issued new national restrictions to stop the spread of the virus earlier last week.
In Germany, officials warned of a possible return to stricter measures in the days ahead. Health Minister Jens Spahn asked people to diligently follow coronavirus safety protocols. He pointed out that vaccines did not arrive as quickly enough as needed to prevent a third wave.
Spahn warned that new infections in Germany were rising at a "very clearly exponential rate."
Germany's center for disease control said that the UK coronavirus variant was the dominant strain in the country, as in France and Italy.
The new lockdown measures introduced by governments have triggered public anger, resulting in violent protests in some places.
About 20,000 protesters from all over Germany converged on the central city of Kassel to protest against coronavirus restrictions.
Police deployed water cannon and pepper spray after the march turned violent, with the demonstrators throwing bottles at police.
"Bottles were thrown and there were attempts to break through barriers," police said on Twitter, complaining that the protesters, who were summoned by the "Querdenker" – "Lateral Thinkers" – an online conspiracy movement, disobeyed police instructions, refusing to wear face masks and observe social distancing guidelines.
The protesters carried placards reading "No compulsory vaccination" and "Democracy will not tolerate censorship".
Marchers faced counter-protesters wearing face masks, one of whom held up a placard reading "Vaccinated."
Similarly, several thousand people gathered for anti-lockdown demonstrations in Hyde Park, London on Saturday.
The Metropolitan Police Service said it had arrested 36 people for violating the months-old virus health safety protocols.
"Several were injured as a result of targeted assaults," said Deputy Assistant Commissioner Laurence Taylor, who led the police crackdown. "It is totally unacceptable and saddening that officers enforcing regulations that are there to protect us all were the victims of violent attacks."
COVID-19 lockdown measures have been in place since early January in Britain and anti-lockdown demonstrations have been held regularly during the pandemic, often resulting in a small number of arrests.