Asia-Pacific
Korea
North America
Coward Trump says latest missile tests by North Korea no threat to US
US President Donald Trump says that a recent short-range missile test by North Korea did not pose any threat to the United States.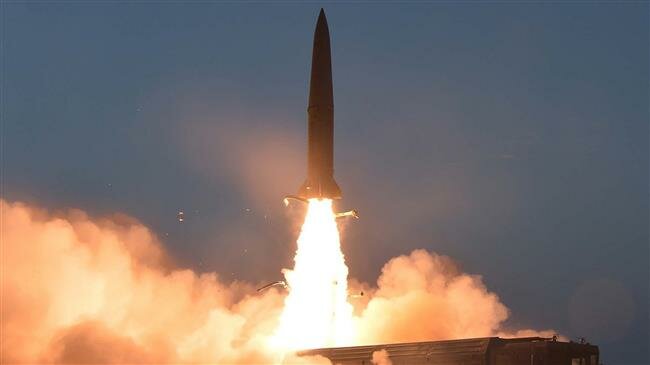 North Korea early on Thursday test-fired two new short-range ballistic missiles in a first since leader Kim Jong-un's meeting with Trump at the demilitarized zone (DMZ) between the Koreas last month, where they agreed to resume stalled denuclearization talks.
Despite Pyongyang's calling the tests a "solemn warning" to its southern neighbors, Trump said that "they're short range missiles, and many people have those missiles."
"Well, he (Kim) didn't say a warning to the United States, I can tell you that. He didn't send a warning to the United States," Trump told reporters on Friday, adding that North and South Koreas have had disputes "for a long time."
"They have their disputes, the two of them have their disputes," he said referring to the two countries which fought a war between 1950 and 1953 during which US troops took a major part, winding up as the South's principal protector.
North Korea fires 2 missiles toward Sea of Japan: SouthSouth Korea's military says North Korea has launched two short-range missiles toward the East Sea.
Meanwhile, Kim said Thursday that "we cannot but develop non-stop super-powerful weapon systems to remove the potential and direct threats to the security of our country that exist in the South," according to state news agency KCNA.
While the report did not mention Trump or the US, it noted that Kim was critical of Seoul's plans to continue joint exercises with the US military on the Korean Peninsula.
Trump, however, said that his "relationship with very Kim is very good. We'll see what happens."
The US State Department said Thursday Pyongyang should refrain from further provocations and that it looked forward to resuming working-level talks on North Korea's denuclearization.
"We urge no more provocations. This administration is committed to diplomatic engagement with the North Koreans and we continue to press and hope for these working-level negotiations to move forward," State Department spokeswoman Morgan Ortagus said in a statement.
As a precondition, North Korea says it would only come to the negotiating table when the joint US-South Korean military exercises end.