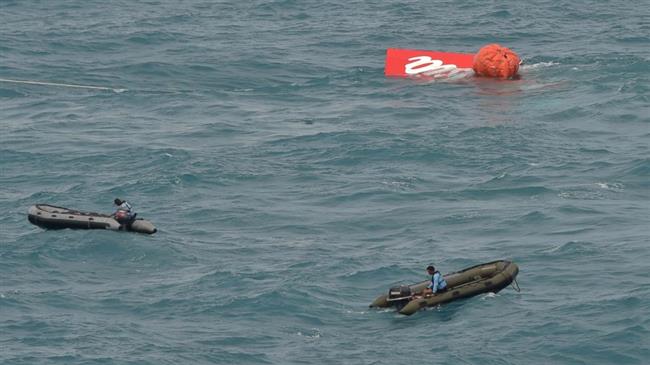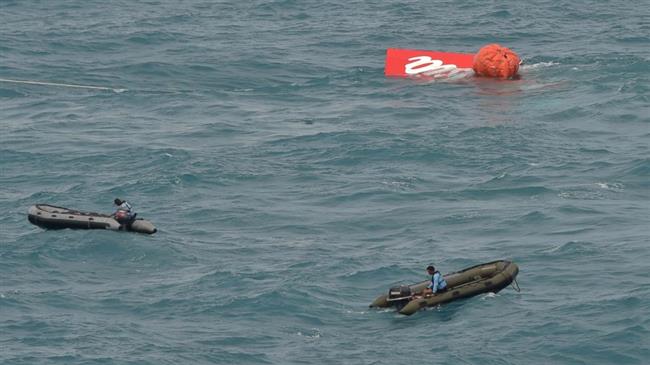 The investigators searching for black boxes of the crashed AirAsia flight QZ8501 have lifted the aircraft's tail section out of the Java Sea.
The tail portion of the ill-fated passenger plane was hoisted on Saturday from a depth of about 30 meters (100 feet) using inflatable bags attached to the rear of the aircraft.
Indonesian armed forces chief General Moeldoko said the tail was to be attached to the Crest Onyx towing ship "so that divers can thoroughly re-check if the flight data recorder is still inside the tail."
It was not immediately determined if the cockpit voice and flight data recorders were still inside the tail or if it had been disconnected when the plane crashed into the sea two weeks earlier.
The retrieved tail section comes a day after search and rescue teams detected pings during their efforts to locate the plane's black boxes, however, it was unclear if they were coming from the recorders.
The discovery of the recorders will be vital for explaining why the aircraft went down.
Rescue workers have so far recovered 48 bodies and smaller pieces of the aircraft, including seats and an emergency door, from the sea surface.
Officials are hopeful many of the remaining 114 corpses will be found entombed in the body of the plane.
On December 28, 2014, the Indonesia AirAsia Airbus A320 disappeared en route to Singapore from Surabaya in Indonesia, with 155 passengers and seven crew members on board. The plane was later found to have crashed in the Java Sea under yet unknown circumstances.
The Indonesian Agency for Meteorology, Climatology and Geophysics has said bad weather was the key factor behind the crash, specifically pointing to icy conditions as the likely cause of engine failure.