Iran
Croatian Official: Tehran, Zagreb Enjoy Abundant Common Grounds for Cooperation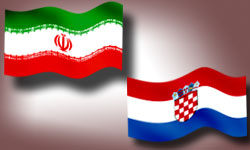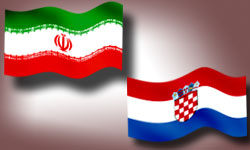 A senior Croatian official underlined her country's enthusiasm for the further expansion of ties with Iran, and said Tehran and Zagreb enjoy abundant common grounds for mutual cooperation.
Ms. Mirjana Mladineo, an adviser to Croatia's President, made the remarks in a meeting with Iranian Foreign Ministry Spokesman Ramin Mehman-Parast, emphasizing the need for expansion of relations between the two countries.
"Iran with its great civilization and history is an important country of the world and Croatia is keen to develop relations with Tehran," Mladineo said.
The official noted that there are lots of common grounds for cooperation between Iran and Croatia to develop cooperation.
Mehman-Parast for his part underlined that Iran aims to help the establishment of peace and security in the region and that this is one of the most important principles of the Islamic Republic's foreign policy.
"EU economic crisis and the following social incidents are the results of a wrong governing system and the west needs to review its system to solve these problems; Iran does not welcome the imposed sanctions but they have strengthened the Iranian nation's commitment and resulted in greater progress and as you know Tehran has also implemented the country's subsidy reform plan successfully during the sanctions which was praised by the International Monetary Fund (IMF)."
Iranian spokesman asserted that Tehran welcomes the expansion of relations with Croatia in all fields including the fields of media and tourism.
Iran and Croatia established diplomatic relations on April 18, 1992 when Iran became the 7th country to recognize the newly-independent Croatia. Croatia has an embassy in Tehran and Iran maintains an embassy and a cultural centre in Zagreb.
Croatia's new President Ivo Josipovic had earlier stressed his country's will for expanding ties with the Islamic Republic of Iran in all the political, economic and cultural fields.
Josipovic, a Social Democrat law professor and classical music composer, made the remarks in a meeting with Iranian Ambassador to Zagreb Ali Ahani following his inauguration ceremony in 2010.
"Considering Iran's vast facilities and potentials and also Croatia's technical capabilities, I hope that the two countries' cooperation would further expand in economic fields," he added.
Josipovic also described a recently endorsed cooperation deal between a Croatian company and Iran as a good model for strengthening mutual economic cooperation.