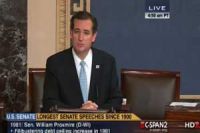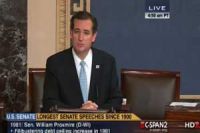 Sen. Ted Cruz's talk on the need to defund Obamacare finally ended Wednesday, clocking in at 21 hours and 19 minutes.
After starting at 2:41 p.m. Tuesday, Cruz wrapped up at noon Wednesday when the Senate day adjourned. Reid had offered to allow the Texas Republican senator to continue speaking until 1 p.m., but Cruz declined the offer because he wanted to be granted unlimited time to speak.
Cruz pulled the all-nighter in the U.S. Senate as he advocated for the defunding of Obamacare into the wee hours of the morning.
Senate rules required Cruz, 42, to stand throughout his speech but allowed him to yield to questions from other senators. Several Republican senators, including Sens. Mike Lee, Rand Paul, and Marco Rubio helped Cruz with his speech at various points throughout the night. Even Democratic Sen. Dick Durbin, and Tim Kaine chimed in with questions for the Texas senator.
After the House of Representatives passed a continuing resolution, which strips Obamacare of its funding last week, Cruz vowed to use every procedural measure possible, including a filibuster, to keep the Senate from restoring the funding.