Latin America
North America
World News
Cuba Embassy attacked in Paris, Havana holds US responsible
Cuba has blamed the United States for an attack on its embassy in the French capital of Paris, saying Washington encourages such violent actions against the Latin American country.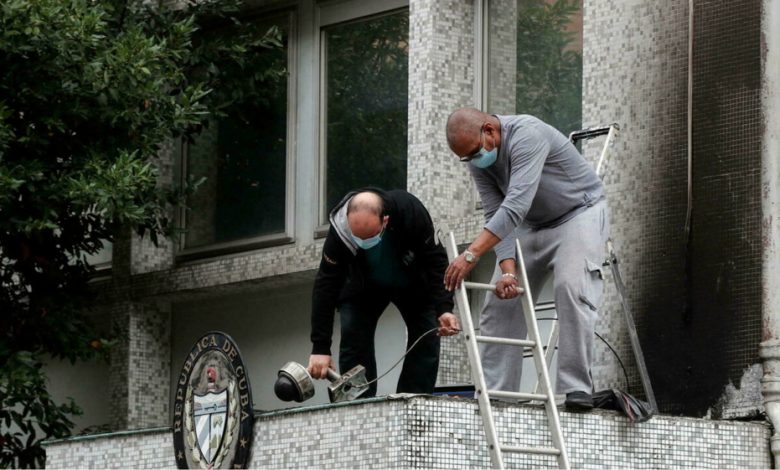 The Cuban Embassy building was attacked by Molotov cocktails in the French capital on Monday. According to firefighting officials, "the devices, which caused minor damage, were extinguished before (firefighters) arrived."
The Cuban Foreign Ministry said three Molotov cocktails — two of which reached the embassy's facade and another that made it into the building — struck the building and started a fire that was quickly put out by the mission's employees.
"We denounce the Molotov cocktail terrorist attack against our Embassy in Paris @EmbaCubaFrancia," Foreign Minister Bruno Rodriguez tweeted.

He said that Havana held "the US government responsible for its continued campaigns against our country that encourage this behavior and for its calls for violence, with impunity, from its territory."
Cuba has blamed the US for provoking unrest in the country. Several days of unrest earlier led to at least one death, dozens of injuries, and more than 100 arrests. The protests erupted against the government of President Miguel Diaz-Canel as Cuba was experiencing its worst economic crisis in 30 years, with shortages of electricity and food exacerbated by the US embargo.
Diaz-Canel has also held the US embargo responsible for the economic difficulties.
In a latest development, US Secretary of State Antony Blinken called on Havana "to respect the legally guaranteed rights and freedoms of the Cuban people" and to "release those detained for exercising their rights to peaceful protests."
Countries, including Brazil, Colombia, and Ecuador, supported the call on Monday.
Rodriguez said in a separate tweet that the "statements of the US secretary of state are based on the support of a handful of countries that have been pressured to accept his decrees."

"#Cuba counts the support of 184 nations that all call to #EndTheEmbargo," Rodriguez said, referring to the US's longstanding sanctions against the Caribbean nation.
Last month, a total of 184 countries voted in favor of a resolution to demand the end of the US economic blockade on Cuba. Numerous resolutions by the United Nations General Assembly have so far indicated that the US blockade of Cuba is against international law.