Iran
Cultural cooperation between Tehran, Baku urged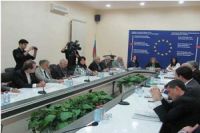 Iranˈs cultural attaché in Baku, in a meeting with a number of parliament deputies and Baku State University professors, said Iran is ready for joint cooperation in the fields of history studies and scientific researches.
According to IRNA on Saturday, Seyed Ebrahim Ebrahimi, who was attending a ceremony to launch the book; ˈ One hundred years history of Shamakhi city ˈ in Law School in Azerbaijan Republic National Science Academy, said that there are many important historical documents in different issues in Iranˈs libraries that could be a base for useful cooperation for studies and research centers in both countries.
His proposal was welcomed by participants in the ceremony.