North America
Daesh Father Obama Ready to Announce his Daesh Strategy on Eve of Sept. 11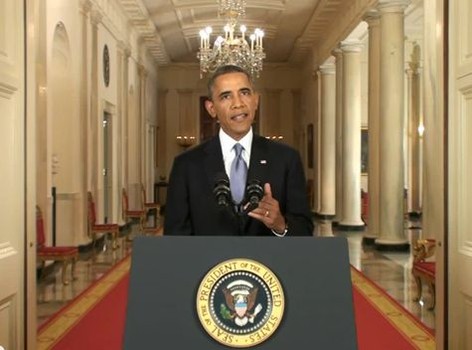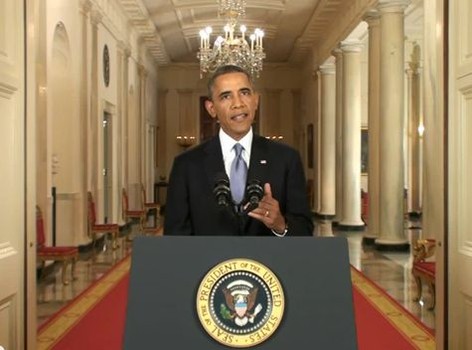 One day before the 13th anniversary of the September 11 attacks, US President Barack Obama plans to address the nation on the threat posed by "Daesh" [ISIL] extremists in Iraq and Syria.
Obama will meet with congressional leaders at the White House on Tuesday and then outline his plan to tackle "Daesh" to the American nation on Wednesday, the eve of the 13th anniversary of the September 11, 2001 attacks in the United States.
Obama disclosed his plans during an interview with NBC's "Meet the Press" on Sunday.
He said he wants Americans to understand the nature of the threat and how their government is going to deal with it.
"The next phase is now to start going on some offense," Obama said.
In the interview, Obama claimed the US would not go after "Daesh," but would operate as part of an international coalition and continue airstrikes to support ground efforts that would be carried out by Iraqi and Kurdish troops.
"What I want people to understand … is that over the course of months, we are going to be able to not just blunt the momentum of ISIL," he said. "We are going to systematically degrade their capabilities. We're going to shrink the territory that they control. And ultimately we're going to defeat them," Obama claimed.
"But this is not going to be an announcement about US ground troops," he claimed, while the US military has conducted more than 130 airstrikes against "Daesh" militants in Iraq in the past month.
The operations will be "similar to the kinds of "counterterrorism" campaigns" the US has waged in the past, Obama said.
He added: "The strategy both for Iraq and for Syria is that we will hunt down ["Daesh"] members and assets wherever they are."
"I will reserve the right to always protect the American people and go after folks who are trying to hurt us wherever they are," he further said.
Meanwhile, US lawmakers said in advance that they would like the president to give specifics.
Sen. Marco Rubio, who sits on both the Senate Intelligence and Foreign Relations Committees, said that as Obama has committed "presidential malpractice in his foreign policy," he is eager to hear directly what Obama "should have said months, weeks ago."
"First, clearly explain to the American people what our national security interests are in the region" and spell out the risk that "Daesh" militants pose "for us, short-term and long-term, and why they matter," Rubio said on CBS' "Face the Nation."
House Intelligence Committee Chairman Mike Rogers, said that, "Clearly, he's put together a coalition of the willing – we have heard that before – to tackle this problem."
"And then I think he needs to engage Congress, the American people, on what exactly we're going to do here," Rogers told CNN.
Sen. Dianne Feinstein, a California Democrat who heads the Senate Intelligence Committee, said on the same CNN program that Obama needs to spell out both the diplomatic and military components of his strategy.
Obama sparked criticism for his remark recently last week that, "We don't have a strategy yet" for confronting "Daesh" extremists.
Meanwhile, former US Republican presidential candidate Mitt Romney also said that Obama has been indecisive in dealing with the crisis in Syria as well as other foreign-policy challenges.
"I think the president is really out of touch with reality when it comes to what's happening in the world," Romney said on Fox News. "He is so out of touch with reality that he hasn't taken the action necessary to prevent very bad things from happening."