Syria
Damascus Army's Air Defense Wards off Israeli Air Raid in Southern Syria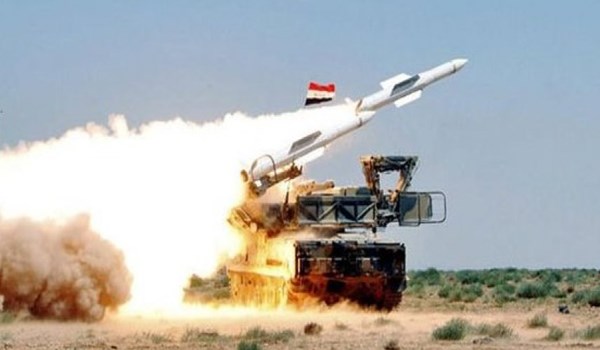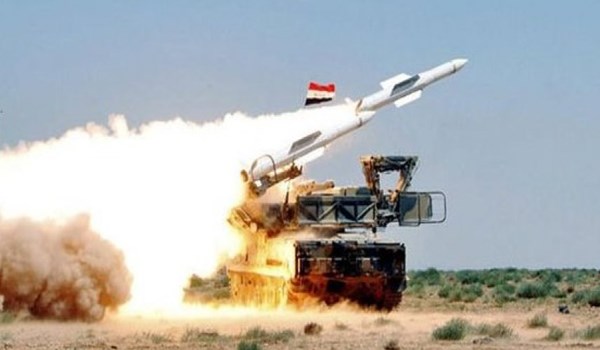 The Syrian Army's air defense systems thwarted an Israeli missile attack in the Southern parts of the country.
The Syrian air defenses managed to intercept all the seven Israeli missiles, while some reports said the Syrian army shot down all the seven missiles, adding that the remains of one of the intercepted missiles was found in a farm in rural areas.
Other reports said that the missiles were fired by Israeli fighter jets flying in Southern Lebanon's air space.
Meantime, the Arabic-language service of Russian Sputnik news agency quoted local sources as saying that the Syrian Army's air defense shield has repelled attacks by Israel on targets near Talol al-Ahmar East of the town of Hazar South of Damascus and North of Quneitra province.
The sources noted that the Israeli fighter jets were continuously and intensely flying over the Occupied Golan Heights concurrent with the attacks.
Pointing to the tensions in Quneitra Front after Israel's failed attack on Damascus suburbs today, they reiterated that the battlefield was the scene of missile exchanges between Syria and Israel.
The Arabic-language service of Al-Mayadeen news network reported that four Israeli fighter jets fired missiles towards Damascus through Lebanon.
The Russian Defense Ministry also announced that Israel's attack on Damascus Airport did not leave any casualties or losses.
The source went on say that the Syrian army's air defenses destroyed all the seven missiles fired by Israel.
The Sham Times news website quoted a military analyst as saying that there is a link between the Israeli airstrikes and terrorist attacks in the outskirts of Damascus which took place earlier today.
On Sunday morning, the Syrian security forces foiled a terrorist attack in the outskirts of Damascus.
The terrorists tried to explode a parcel in Southern al-Motehaleq near a Syrian Army military point in the suburbs of Damascus, but the Syrian Army foiled their attempt, the London-based Syrian Observatory for Human Rights (SOHR) reported.
The Arabic-language al-Mayadeen TV network announced that an explosive package was seized from the terrorists and defused it through controlled detonation in Southern Al-Motehalaq region in the outskirts of Damascus.
Meantime, the Syrian State-Run news agency reported that a terrorist has been arrested in connection to the foiled terrorist attack.
Moreover, the Arabic-language RT quoted some media activists as saying that the Syrian security forces have also defused a second bomb plot and they are chasing the terrorists.