Syria
Damascus scholars call on participants in Geneva to end Syrian people's suffering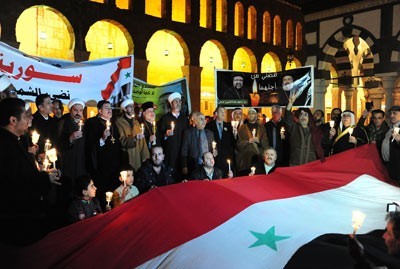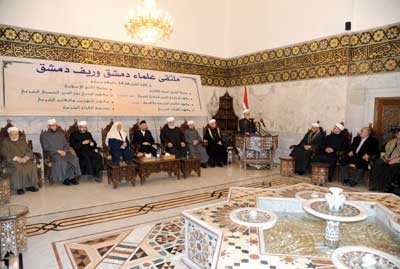 Scholars of Damascus and its countryside called on the participants in Geneva 2 conference to put an end to the suffering of the Syrian people and dry up the sources of terrorism through preventing the countries which are backing terrorism from carrying out their acts which violate all international laws and moral and human values.
In a statement issued after a massive meeting at the Grand Umayyad Mosque in Damascus, the scholars said, "We address those who are gathering in Geneva from all over the world on behalf of the Syrian people who have suffered for three years of killing, slaughtering, destruction, kidnapping and bombings practiced by Wahabi takfiri terrorist mentalities."
They stressed that the Syrians are looking forward to Geneva 2 conference to make decisions to combat terrorism, extremism and systematic sabotage against Syria.
They emphasized that the Syrian people is going on to protect and rebuild the homeland behind the leadership of President Bashar al-Assad.
Families of Old Damascus call on participants in Geneva conference to end Syrians' suffering from terrorism
Families of old Damascus organized a candles' march calling on the participants in the international conference on Syria, Geneva 2, to put an end to the Syrians' suffering from foreign-backed terrorism.
The families in the march which set off from Bab Sharqi to the Great Umayyad Mosque, raised placards stressing that the Syrians are the only ones who determine the future of Syria, away from any foreign intervention.
Father Gabriel Dawoud, one of the participants in the march affirmed that the Syrian people will come out victorious of their war on terrorism.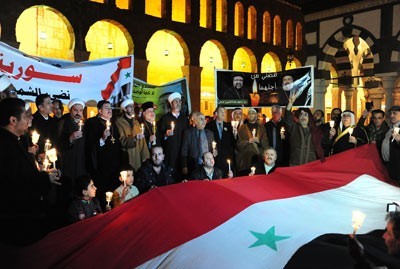 For his part, Sheikh Sabri al-Shnwani said that the Syrians are waiting for Geneva 2 to issue decisive resolutions to fight terrorism which has targeted Syria for more than 3 years.