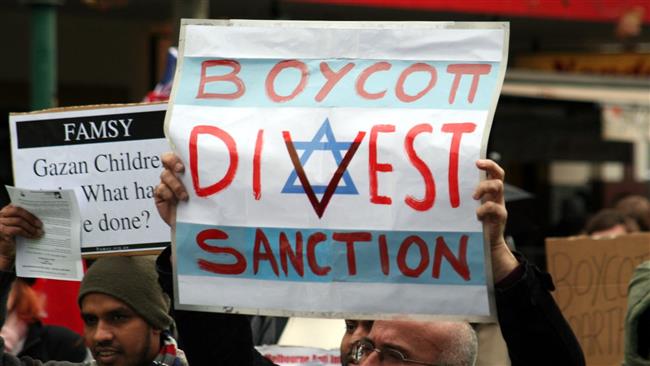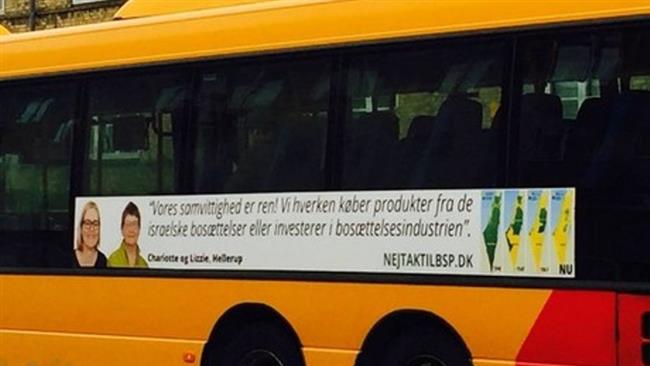 A pro-Palestinian group in Denmark has vowed to spread an advertising campaign aimed at urging the boycott of Israeli goods produced in illegal settlements after such ads were taken down from buses in Copenhagen.
"It's a clear attempt to deny us our freedom of speech," said the chairman of the Danish Palestinian Friendship Association, Fathi al-Abed, on Monday, about a week after the Copenhagen-based bus operator Movia dropped the ad campaign.
"There is nothing, whatsoever, about this campaign that is harmful, discriminatory or hateful in any way," he was quoted as saying in an AFP report.
The advertisements on 35 buses in the Copenhagen area displayed two women beside the quote, "Our conscience is clean! We neither buy products from the Israeli settlements nor invest in the settlement industry."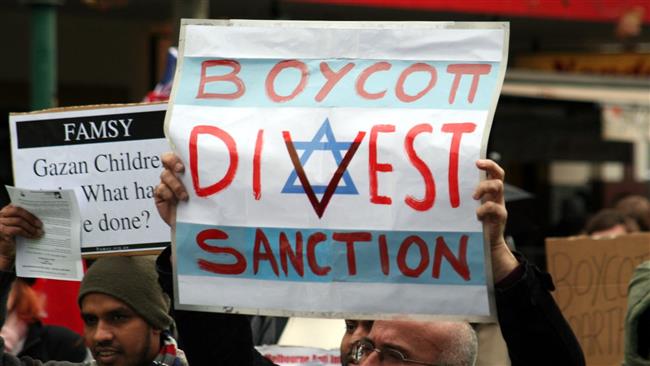 However, the ads were immediately taken off by Movia within just four days after the company "received a significant number of inquiries regarding the Danish Palestinian Friendship Association's campaign against Israeli settlements."
This is while the company refused to respond to inquiries regarding its cancellation of the advertisements, but only claimed in a statement that the campaign was "unnecessarily offensive," according to the report.
Al-Abed, meanwhile, emphasized that his group would respond to the move by Movia by further expanding a national advertising campaign on the Israeli products boycott effort. "Nobody can understand why they (the bus company) decided to do this," he added.
South African universities boycott Apartheid Israel
In a related development on Monday, the student councils of five South African universities decided to join an academic boycott of what they refer to as "Apartheid Israel," and announced that they will exert pressure on their institutions to implement the boycott.
"The Israeli regime is proving itself to be anti-children, anti-student and anti-education," student council presidents of the universities said in a statement.
The decision came shortly after South Africa's minister of higher education, Blade Nzimande, urged the boycott of Israeli academic institutions last month after the Tel Aviv regime refused to issue a visa for his visit, saying he was "radically anti-Israel."
The global movement for a campaign of Boycott, Divestment and Sanctions (BDS) against Israel was initiated by Palestinian civil society in 2005. BDS is a strategy that allows people of conscience to play an effective role in the Palestinian struggle for justice.
The developments came as a US-based Islamophobic group with a history of making provocative statements about Islam sponsored a so-called Prophet Mohammad cartoon drawing event in the state of Texas.
The event was reportedly disrupted by a shooting incident in which two suspected gunmen were killed by police after injuring a security guard.
The so-called American Freedom Defense Initiative (AFDI), led by a pro-Israeli activist Pamela Geller, had offered a $10,000 prize in the competition to draw a cartoon of Islam's holy prophet, an effort clearly regarded by observers as aimed as insulting Muslims worldwide since depicting the prophet is viewed as highly offensive by most Muslims.