Middle East
Syria
Dara'a: 4 Tons of US-Made C-4 Explosive Substance Discovered by Syrian Army in Former ISIL Base
The Syrian Army discovered four tons of US-made C-4 explosive substance during mop-up operations in the newly-liberated areas in Western Dara'a in Southern Syria.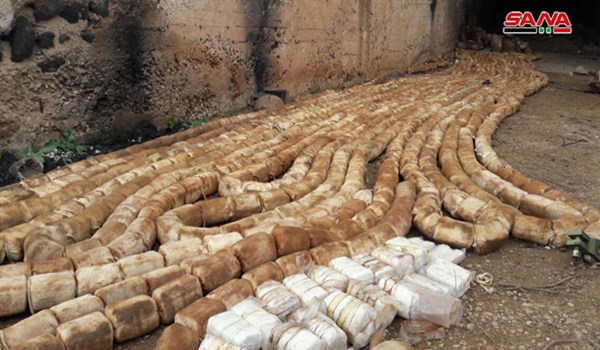 The Syrian Army's engineering units made the discovery during its cleaning operation in Hauz al-Yarmouk region in Western Dara'a.
Over four tons of highly-explosive C-4 substance was found in terrorists' hideouts in Hauz al-Yarmouk which was ISIL's main military base in the Western part of Dara'a Province.
The C-4 explosives had been professionally mounted in terrorists' hideouts.
Meantime, a Syrian Army military source said such quantity of explosive material is usually sold to countries under contracts and deals.
He noted that terrorists' access to such materials is a clear evidence of the support they have received from countries backing terrorism, specially the US.
The source explained that only one kilogram of C4 material has the destructive power equal to 13 kilograms of TNT.
In a relevant development on Saturday, the Syrian Army discovered a cache of arms and military equipment, including the US and western weapons, during cleansing operations in Quneitra Province in Southern Syria.
The Syrian Army's engineering units discovered several depots packed with weapons and military equipment, some of them made in the US and the West, left behind by terrorists in several towns and villages in Quneitra Province.
The discovered weapons included different kinds of rifles, Rocket-Propelled Grenades (RPGs), machineguns and a large amount of ammunition
A military source, meantime, said that the Syrian Army troops found state-of-the-art telecommunications systems and satellite equipment made in the US and other Western countries.