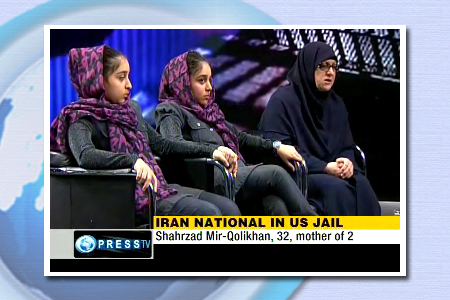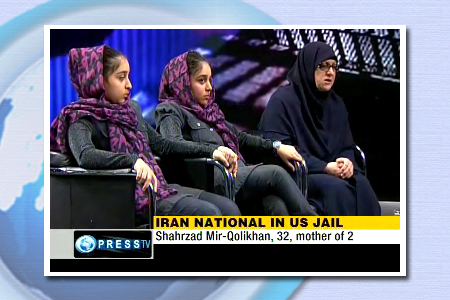 The teenage twin daughters of the 'innocent' Iranian woman, held in detention in the US, have asked President Barack Obama to release their mother and give them the opportunity to see her.
Appearing on Press TV's News Analysis, emoitional Melika and Melina Mir-Qolikhan, 14, along with their grandmother Belghis Rovshan, said on Tuesday that "we are at an age that we need our mother besides us."
"We haven't seen our mother in three years," Melina said adding that she would like to ask President and Mrs. Obama "to give me the opportunity to see my mother again."
"Our mother is innocent, we know she is innocent and has done nothing wrong," Melika said.
Shahrzad Mir-Qolikhan was arrested in the US in December 2007. Her ex-husband, Mahmoud Seif, had allegedly tried to export night-vision goggles to Iran from Austria.
She was sentenced to five years in prison by a Florida federal court in his absence.
Belghis also shed more light on her daughter's dire conditions saying, "Sometime there are cockroaches and small insects in her food…. They (US authorities) have threatened to take her to a mental ward."
"They tell her that you are a terrorist, you are Iranian, you are crazy," she added.
Belghis said that Shahrzad's illegal detention has affected her physically. "I have had a nervous breakdown. I have had several strokes and a heart attack," she told Press TV.
She said that Shahrzad had been trial in Austria and had been exonerated but the US court in Miami annulled the verdict and ordered a re-trial.
The mother said that US authorities allow the family to talk to Shahrzad on the phone only for 5 hours a month — that is one hour and 25 minutes a week.
This is while according to Florida Department of Corrections, "a visiting schedule shall be implemented to ensure a minimum of two hours a week for inmates to receive visits."
On Monday, Shahrzad told Press TV via telephone from inside the prison that she is being kept under horrible conditions and is subject to both physical and mental torture.
"I was taken to a Federal Prison Camp in Miami after my arrest in December 2007," she said, describing the Miami prison as a "horrible place."
"I was mistreated horribly by all the correctional officers and more especially at the higher level, the lieutenants, captains and warden," Shahrzad said.
"Then last Saturday out of the blue they came and put me in handcuffs and took me to the SHU (Special Housing Units) where the most horrible and dangerous of criminals are kept," Shahrzad said.
"They put me in handcuffs, they took me to the prison and they started to torture me in every possible way, especially mentally. They horribly tortured [me] mentally, to become a spy and work for them and turn in my ex-husband," she said.
The US has detained several Iranian nationals on charges of violating the US-imposed sanctions against Iran.