Days of Allah
International Quds Day
Iran
Middle East
Palestine
'Deal of Century' Turns into 'Resistance of Century': Iranian Judiciary Chief
Iran's Judiciary Chief Hojatoleslam Seyed Ebrahim Raeisi expressed confidence that the US administration's conspiracy against Palestinians called "the deal of the century" would be foiled, saying it will turn into "the resistance of the century".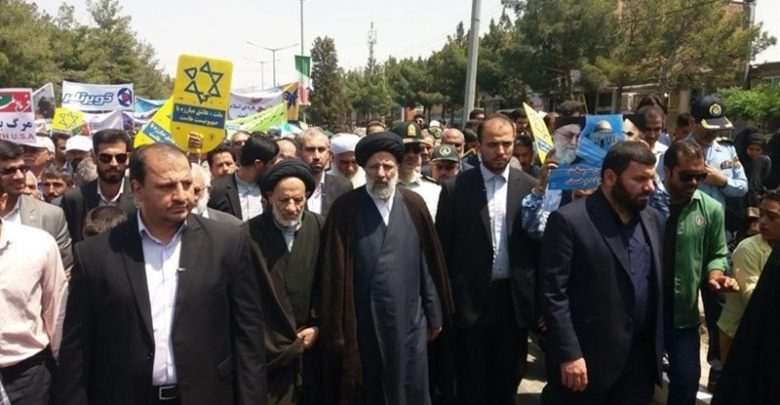 Speaking to reporters while attending a rally in the eastern city of Birjand on Friday, marking the International Quds Day, Raeisi praised the high turnout in the nationwide rallies and said, "The glorious presence of the people in these marches and gatherings conveys a message of certainty about the freedom of Quds to the lovers of the (Islamic) Revolution."
"The steely determination of the people with their massive presence has a lot of messages," he said, adding that the presence can be easily seen by the enemy and the global arrogance (the US).
"…Given the magnificent gatherings and the insight of the Islamic Ummah (community), the deal of the century will turn into the resistance of the century," the judiciary chief noted.
The Iranian people took part in countrywide demonstrations on Friday to commemorate the International Quds Day, reaffirm support for Palestine, and condemn the Israeli crimes against Palestinians.
The Quds Day's demonstrations in Iran kicked off at 10 am local time in more than 950 cities across the country.
Millions of fasting people from different walks of life have poured into the streets in support of Palestinians, who have been suffering from Israel's atrocities for decades.
Chanting slogans against the Tel Aviv regime and its allies, demonstrators called for an end to the Israeli occupation of Palestine, Judaization of the holy city of al-Quds and construction of Israeli settlements across the West Bank.
Carrying placards and chanting slogans against Israel and the US, the marchers also voiced strong opposition to the so-called deal of the century, a US-initiated plan for ensuring the interests of Israel.
Many Iranian officials and prominent figures have joined the demonstrations in various cities.