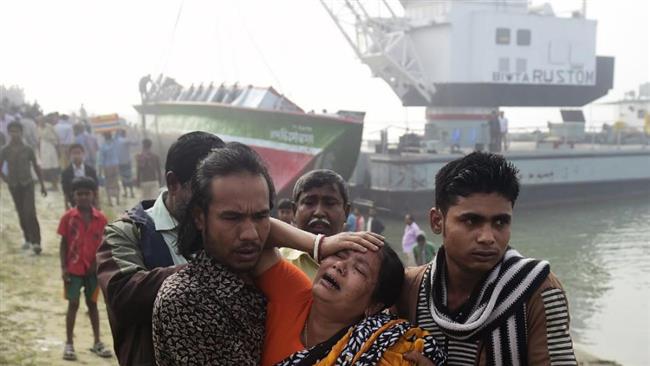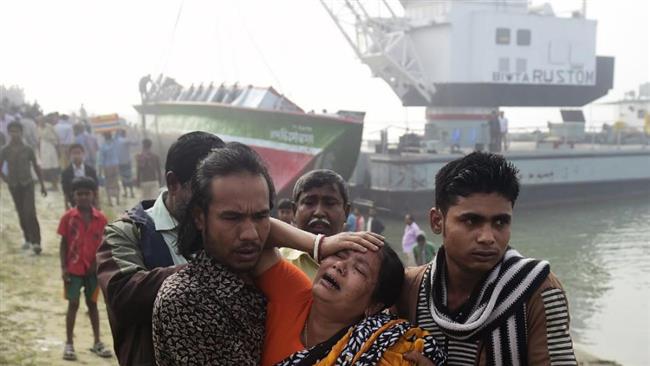 Death toll from Bangladesh's ferry disaster has reached 78 after rescue teams discovered more bodies following days of search operation.
Rescuers recovered more bodies floating kilometers downstream from the site of the February 22 accident in central Bangladesh.
"We've recovered seven bodies today floating downstream," media outlets quoted government administrator of the area, Rashida Ferdous, as saying on Wednesday.
The overcrowded boat sank within minutes of colliding with a cargo vessel on the Padma River. The Padma is one of the largest rivers in Bangladesh, a nation that is crisscrossed by an estimated 130 rivers.
On Monday, rescuers found dozens of bodies inside the lower deck of the small two-deck ferry, after it was raised from six meters under the water by a crane-fitted salvage vessel.
Rescue operations are still underway. According to local officials, rescue teams were deployed to the site of the accident, 40 kilometers (25 miles) northwest of the Bangladeshi capital of Dhaka, while many passing vessels were also assisting in the operation.
Several regions across Bangladesh are heavily reliant on ferries for transport, but a poor safety record has always ascended as a major issue.
Poor safety standards and overcrowding of ferries are also cited as the major cause of many ferry disasters in the poor South Asian nation.
An overloaded ferry carrying some 200 passengers capsized in an estuary in the south of the country earlier this month, killing at least five people including a minor.
In a similar accident in August 2014, a ferry with a capacity of 85 passengers capsized while it was transporting more than 200 people on the Padma River near the capital, leaving over 100 people dead or missing.