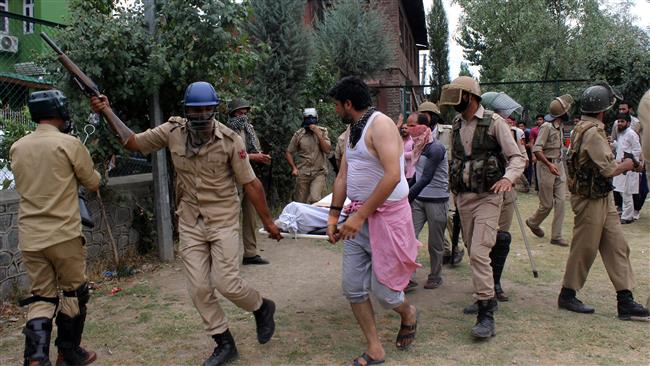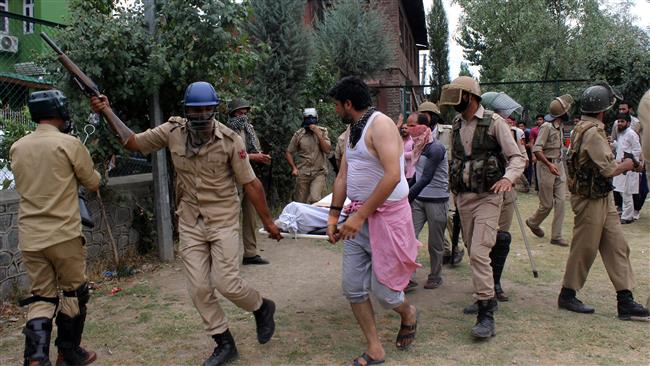 Indian officials have updated the death toll from the ongoing unrest in the Himalayan state of Jammu and Kashmir, saying that 16 people are now confirmed dead following the clashes between protesters and riot police over the killing of a popular rebel leader.
One protester was shot dead on Sunday after riot police fired on infuriated and stone-hurling demonstrators, who defied a curfew aimed at suppressing the public uproar in the southern area of Pulwama, and six others succumbed to their wounds overnight, AP quoted an unnamed security official as saying.
A police officer also lost his life in the southern area of Anantnag, where angry demonstrators pushed his armored vehicle into a river.
Indian authorities have for the second day extended the curfew to the whole Kashmir valley, including the major city of Srinagar.
The clashes came after residents of Kashmir held a funeral for separatist Burhan Wani, the young leader of Hizbul Mujahideen (HM), who was killed on July 8 along with two other people during a brief gun battle with government forces.
During the past five years, Wani had become the iconic face of militancy in Kashmir, using social media to reach out to young people in the region.
Wani's body was handed over to his family earlier on Saturday and the locals, who see the slain 22-year old as a hero, turned the mass funeral into a full-scale protest.
According to Indian police, anti-riot troops used live ammunition, pellet guns and tear gas to disperse the crowds and calm down the outrage. Authorities have also suspended mobile networks and the internet to prevent massive demonstrations.
Reports say that at least 200 people, including 90 government forces, were injured during the clashes.
The death of Wani sparked street protests across Kashmir throughout the Friday night. In a rare incident, mosques' loudspeakers were blared with "Azadi" (freedom from Indian rule) in most areas, including Srinagar, where people were ordered to remain indoors.
Major groups known for their resistance against the Indian rule have declared three days of mourning.
Kashmir, a Himalayan region known for its beautiful landscapes, lies at the heart of more than 69 years of hostility between India and Pakistan. Both neighbors claim the region in full but have partial control over it. India controls two thirds of Kashmir while the remaining one third is under the Pakistani rule.
The neighbors agreed on a ceasefire in 2003, and launched a peace process the following year. Since then, there have been sporadic clashes, with both sides accusing the other of violating the ceasefire.
Thousands of people have been killed in the violence in Kashmir over the past two decades.