Lebanon
Death toll from Tripoli clashes rises to seven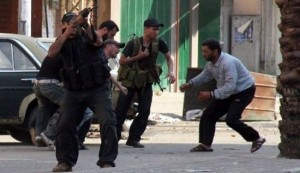 Lebanese security officials say at least seven people have been killed and 30 wounded in fighting in the northern city of Tripoli over the past four days.
The officials said Thursday the clashes are between two Tripoli neighborhoods that are home to opponents and supporters of Syrian President Bashar Assad. The fighting broke out on Monday.
Residents in two of Tripoli's prominent neighborhoods Jabal Mohsen and Bab al-Tabbaneh often engage in violent clashes over their political and religious affiliations.
While Bab al-Tibbaneh residents are against the Syrian government, the inhabitants of neighboring Jabal Mohsen are loyal to President Assad.
Misbah Al-Nazer, a businessman, was identified as the latest fatality from the fighting between the rival neighborhoods. He died in hospital in the morning after he was wounded near the city's Abu Ali roundabout overnight.
Twelve people were also wounded in the clashes that elapsed into the morning hours of Thursday.
The deployment of Army units in the city is to deter the warring sides from continuing the clashes.
Tripoli has been the scene of fierce clashes between the supporters and opponents of the Syrian government since the beginning of the unrest in Syria more than two years ago.