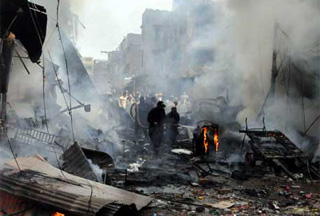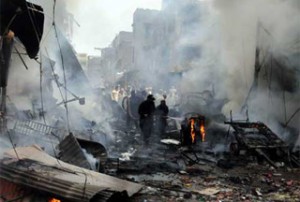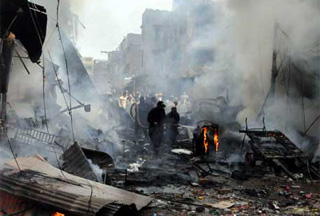 The death toll from a car bomb that struck a market in Pakistan's most populous northwestern city has reached 100, as rescues workers pulled more bodies from the rubble.
On Wednesday afternoon, an explosive laden car ripped through the crowded market in Peshawar, a gateway to the country's lawless tribal areas.
A senior medic at Peshawar's main 'Lady Reading' Hospital said nearly 150 others had registered as injured, most of which were women and children.
The death toll is expected to rise as some of the injured were reported to be in critical condition.
The heavy blast came just hours after the US Secretary of State Hillary Clinton arrived in Pakistan's capital of Islamabad for talks over the so-called 'war on terror.'
A wave of militant attacks in Pakistani cities has killed nearly 300 people, so far, in October.