Lebanon
DEBKAfile: Sayyed Nasrallah's Recent May 25 Speech Taken Literally by "Israeli" Military Chiefs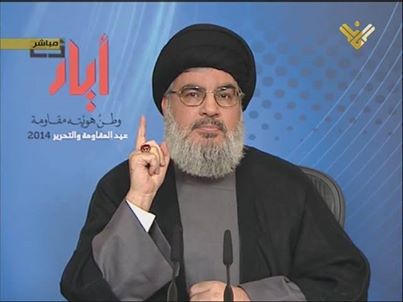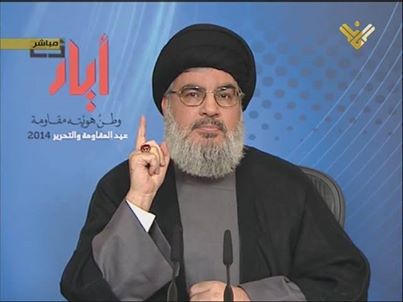 "Israeli" debkafiles revealed that the speech by Hizbullah Secretary General, His Eminence Sayyed Hassan Nasrallah, on Sunday night is studied in depth by the "Israeli" army.
Describing the speech as "belligerent," the sources mentioned that Sayyed Nasrallah's speech on May 25 was taken by "Israel's" top military chiefs "as the precursor for operational plans to bring his forces up to the "Israel" border in South Syria and the Golan – not just to fight Syrian "rebels", but to challenge the "IDF.'"
This conclusion is shared by War Minister Moshe Ya'alon, Chief of Staff Lt. Gen. Benny Gantz and his deputy Maj. Gen. Gady Eizenkott.
Debkafile's military sources added that the "Israeli" officials have been watching the spate of reports Damascus and Beirut have been planting in the last fortnight, which describe Hizbullah as poised for a major offensive to prevent Syrian armed groups taking Quneitra opposite to the Golan border.
The "Israeli" army is accused of backing them with firepower.
From the "Israeli" side, sources report that no major Hizbullah troop advances have been sighted heading in the direction of southern Syria and the Golan – only the advance surveillance teams which turned up briefly last week on the Syrian side of the al-Sheikh range overlooking the Golan.
Nevertheless, Sayyed Nasrallah's speech set off alarm signals.
According to debafiles, "In all the many pugnacious speeches the Hizbullah chief has delivered against "Israel" in his 22 years as secretary general of the Lebanese Hizbullah, he has never before gone into detail on the intelligence he claims to have obtained on "IDF" operations. But in his latest peroration, he did just that – in reference to "IDF" actions in southern Syria."
"When the senior strategist of Hizbullah – or any military group – shows off his intelligence on enemy moves in detail, that is a declaration of war," said one Western military source.
Nasrallah made it clear he was not talking about "Israel's" medical aid to rebels wounded in battle, but the "Israeli" army fire he said was aimed at Syrian units and positions on the Golan. Its purpose, he said, was to carve out a security zone in southern Syria.
"This would not be a 'good fence,'" he said [in reference to the friendly border between South Lebanon and "Israel" in the years 1978 and 2000 that was manned by the IDF-founded South Lebanese Army]. It will be much more than that."
Nasrallah accused "Israel" of incursions across the "land border between Hizbullah and "Israel,"" including the shooting of farmers. "Until now we haven't reacted, but left it to the Lebanese army and UNIFIL," he said. "But no more: For the next violations, we will hit back at once," he said.
This was taken by "Israel's" military chiefs as a threat by Hizbullah to make war on "Israel" from two fronts: Lebanon and Syria.