Iran
Delegation from Turkmenistan visits industrial units in Mashhad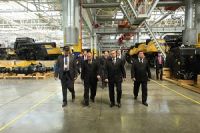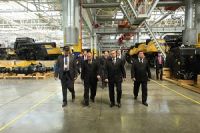 A delegation comprised of Turkmenistanˈs Mary province and that countryˈs merchants and economic officials on Thursday visited three manufacturing units in Mashhadˈs Tous Industrial Township.
ˈThe visit was aimed at establishment of new ways for expansion of economic transactions between Turkmenistanˈs Mary province and Iranˈs Khorassan-e Razavi province, ˈ Public Relations official of Khorassan-e Razaviˈs Industries, Mines, and Trade Organization told an IRNA reporter in Mashhad.
Mahdi Taqvaie said that Afghanistan and Turkmenistan are two major destinations for Khorassan-e Razaviˈs exports, but during the course of the previous years, due to the imposed economic sanctions the trade transactions with Turkmenistan were decreased.
ˈKeeping in mind the improvement of relations between Iran and the world countries, especially with the neighboring countries, ever since the Prudence and Hope Government (of President Hassan Rouhani) came to power, the ground was paved for expansion of economic relations between Khorassan-e Razavi and its export markets, and presence of Turkmenistanˈs Mary province governor general and Turkmen economic officials in Mashhad is in that respect,ˈ he added.
Taqvaie said that during the 1st four months of the current (Iranian) year (1393 –began on March 20, 2014) Khorassan-e Razavi exported 235,000 metric tons of goods to Turkmenistan worth $327 million US dollars, which showed a %226 increase in terms of weight and %33 increase in value.
He said that during the same period the goods exported from other parts of Iran to Turkmenistan were worth $295 million dollars, adding, ˈTurkmenistan is Khorassan-e Razaviˈs 2nd top trade partner and its share of the provinceˈs total exports is 23%ˈ annually.
He further elaborated that Khorassan-e Razaviˈs exports to Turkmenistan comprise 40% of that countryˈs total imports, and mainly include groceries, cement, iron ore, paints and resins, polymer products, homeward appliances, carpets and floor mats, stones, ceramics and chinaware.