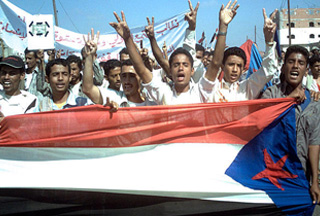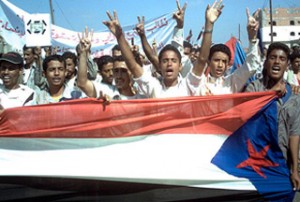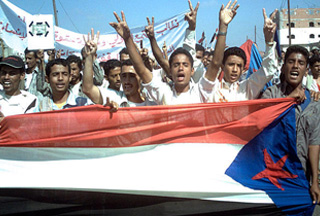 Demonstrators have marched along streets and held up flags of the former People's Democratic Republic of Yemen (South Yemen) in the southern city of Radfan in a protest over airstrikes in the southeastern province of Abyan which caused the loss of civilian lives.
On Sunday, Yemeni men shouted slogans during the demonstration and held up pictures of those killed in the onslaught. The protesters also called on Yemeni President Ali Abdullah Saleh to implement effective measures to stop the reckless attacks against 'Al-Qaeda operatives' in the south that have harmed civilians.
A local official said on Sunday that 49 civilians — mostly women and children — were killed in air raids against Al-Qaeda in the village of Al-Maajala. "The raid was carried out indiscriminately and killed 49 civilians, including 23 children and 17 women," said the official, who spoke on condition of anonymity.
A tribal leader from the Al-Kazam tribe also confirmed the civilian deaths, saying that a total of 49 civilians were killed.
"Al-Qaeda has chosen to build its training center on land where Bedouin nomads pitch their tents, and the government forces believe the nomads harbor Al-Qaeda forces," said the tribal leader, who also spoke on condition of anonymity.
Yemen is the ancestral homeland of the Al-Qaeda leader Osama bin Laden and has been the scene of several attacks on foreign missions, tourist sites, and oil installations, for which the group claimed responsibility.
Al-Qaeda has suffered setbacks as the US stepped up pressure on Sana'a to crack down on them, but their presence still threatens to turn Yemen into a base for training and plotting attacks.
The Saudi branch of Al-Qaeda is believed to have joined forces with militants in Yemen under the banner of Al-Qaeda on the Arabian Peninsula with the aim of launching attacks in Saudi Arabia.