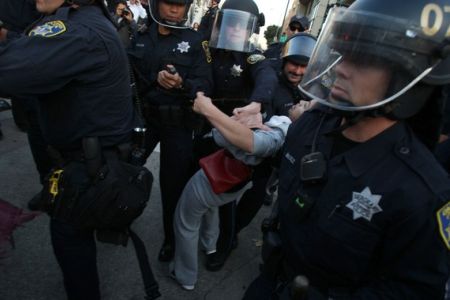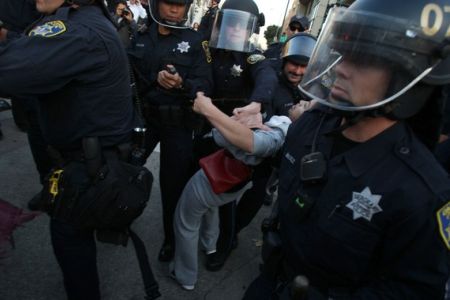 Police in the US cities of Oakland and Atlanta have arrested more than 150 anti-corporatism protesters as the Occupy Wall Street movement continues.
At least 53 protesters, including Georgia State Senator Vincent Fort, were arrested early afternoon on Wednesday in the Wodruff Park in Atlanta, dpa reported.
Atlanta mayor Kasim Reed said the arrests were made as the protesters had gone from peaceful demonstration to "increasingly aggressive actions."
The arrested senator, however, disagreed and said the accusation had been amplified to justify the detentions.
"This is the most peaceful place in [the US state of] Georgia," Fort said.
On Tuesday, police arrested some 100 demonstrators in the city of Oakland while removing the tents they had set up outside the city hall and in a local park.
The Tuesday arrests prompted protesters to march to the Oakland's City Hall to reclaim their camps. The police, however, confronted the protesters with tear gas and sound grenades.
The 'Occupy' movement, emerged after a group of people on September 17 rallied in New York's financial district under the name Occupy Wall Street, to protest against top-level corruption, poverty as well as social inequality in the US.
The movement has now spread to major US cities and other countries, including Australia, Britain, Germany, Italy, Spain, Ireland, and Portugal.