Iran
Middle East
Deputy Commander: Iranian Warships in Int'l Waters to Ensure Security of Cargo Ships
Deputy Commander of the Iranian Navy Rear Admiral Gholamreza Tahani said that the country sends its fleets of warships to the high waters to ensure of the safe and secure navigation of tankers and cargo ships.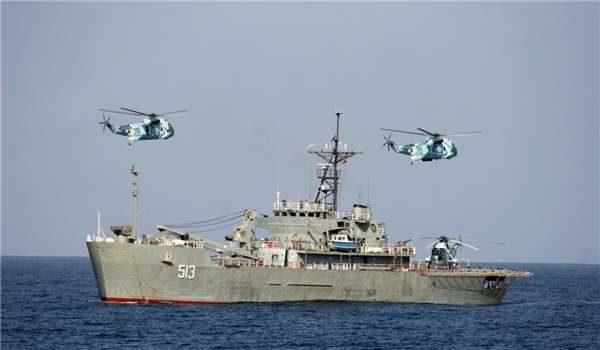 "Our operational fleets of warships are deployed in free waters across the world to secure the safe navigation of sailors," Rear Admiral Tahani said on Wednesday.
He further reiterated the power and firm resolve of the Iranian naval forces in fulfilling their missions.
His comments came as the sixth Iranian ship loaded with food and medical supplies anchored at the port of La Guayra in Venezuela to help the Latin American country in fighting coronavirus epidemic despite the US opposition and threats.
Golsan ship, which had left Iran over a month ago, arrived in Venezuela.
Earlier it was reported Iranian-flagged Golsan cargo ship left Bandar Abbas in mid-May and now is in Venezuela's territorial waters.
Iranian cargo ship Golesan is carrying food and medical supplies to combat coronavirus pandemic, Iran's Ambassador to Caracas Hojjat Soltani wrote on his Twitter page on Sunday.
Recently, Iranian oil tankers docked at Venezuela's port after passing the Caribbean Sea to help the friendly nation of Venezuela deal with shortage of fuel caused by the US sanctions against the country.
Venezuelan President Nicolás Maduro thanked Iranian support, stressing that Caracas and Tehran are both after peace, and have right to do free trade.
Earlier in the month, five Iranian oil tankers carrying millions of barrels of gasoline and components entered the ports of the fuel-starved South American country and are now on their way back to Iran.
Secretary of Iran's Supreme National Security Council (SNSC) Rear Admiral Ali Shamkhani noted that the return of his country's fuel tankers from Venezuela, and said the fools who were after besieging Tehran now feel overpowered by Tehran.
"Iranian tankers, having accomplished their mission successfully, are coming back to the country. This means that the strategy of active resistance has been efficient and the idiots who were seeking to lay siege on us, have now been trapped in the siege stemming from Iran's might," Shamkhani wrote in his Twitter account.
"Trump and Hook's begging for negotiation testifies to this very claim," the top security official said.
Iran's fuel supply to Venezuela has sharply irked the US as the oil sectors of both countries are subject to draconian American sanctions.
A US official said last month that President Donald Trump's administration was considering responses, prompting Tehran to warn of retaliatory measures if Washington causes any problem for the tankers.
In response, President Rouhani said his country is always entitled to defend its sovereignty and territorial integrity, and warned that if his country's oil tankers in the Caribbean or anywhere in the world get into trouble by the Americans, Tehran will definitely retaliate.
"Although some of the US measures have created unacceptable conditions in different parts of the world, we will not be the initiator of tension and clash," Rouhani said in a phone call with the Qatari Emir, Sheikh Tamim bin Hamad Al Thani last month.
Referring to the American moves in the Caribbean, he reiterated, "If our oil tankers face problems in the Caribbean Sea or anywhere in the world by the Americans, they will face problems reciprocally."