Iran
Middle East
Deputy DM: Iran-Made Drones Attracting Many Customers in Market
Deputy Defense Minister and Head of Iran Aviation Industries Organization (IAIO) Second Brigadier General Afshin Khajeh Fard underlined the country's astonishing progress in production of different military equipment, saying that the Iranian drones are favored by many customers in the market.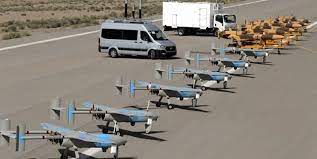 "In the aviation industry, we did not think that there would be such a large number of customers for Iranian drones," General Khajeh Fard said on Wednesday.
He added that Iran has also been able to produce air brakes, noting that today many countries well-known in aviation industry are asking to cooperate with Iran for joint production of air brakes.
General Khajeh Fard said that this shows the global tendency towards the products of the Iranian defense ministry's aviation industry, and stressed the need for the further expansion of the industry to attract more customers.
In relevant remarks in July, General Khajeh Fard had underlined his country's self-sufficiency in manufacturing different types of drones, saying that all parts of the aircraft are produced indigenously.
General Khajeh Fard made the remarks while visiting Iran's pavilion in Russia's international aerospace exhibition, officially known as the International Aviation and Space Salon or MAKS 2021.
"We have made great progress in the area of [manufacturing] drones and we owe these advances to more than four decades of incessant work and indefatigable efforts by our youths," he said.
"Today, we are self-sufficient in building drones from their fuselage to various subsystems and engines," the Iranian official added.
General Khajeh Fard said, "We have broken considerable grounds with regard to UAV flight ceiling, their precision, automatic takeoff and landing, as well as nocturnal missions."