Europe
Iran
Middle East
World News
Deputy FM: Britain's Seizure of Iranian Oil Tanker Violates N. Deal
Iranian Deputy Foreign Minister for Political Affairs Seyed Abbas Araqchi said that seizure of Iran's oil tanker in the Strait of Gibraltar by the British forces is a violation of the nuclear deal, stressing the need for discussing the case at a meeting with parties to the agreement.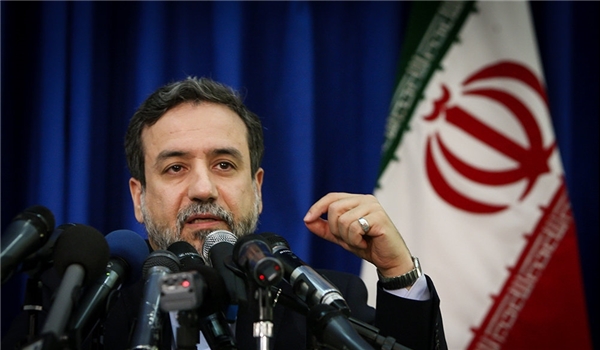 "Seizure of the Iranian oil tanker, Grace 1, by UK in Gibraltar was a violation of JCPOA since none of the deal members can prevent Iran from exporting its oil," Araqchi said before an extraordinary meeting of the Joint Commission of the Joint Comprehensive Plan of Action (JCPOA) in Vienna on Sunday.
"During the past month, various developments have happened regarding the JCPOA, which made it vital to hold a joint commission meeting," he said.
Araqchi noted that when Iran started to scale down its JCPOA commitments, the US wanted to refer the case to the UN Board of Governors, but Europeans wanted to discuss the issue in a joint commission since they believe it is related to the JCPOA mechanism.
"There are some other issues that we consider as violation of JCPOA or lack of commitment of JCPOA-members," he said, adding, "We and the Europeans both wanted today's meeting to be held."
Araqchi said that in the Sunday meeting, the sides will negotiate on each other's complaints, adding that "in the previous meeting we decided to hold JCPOA foreign ministers meeting and the issue is still on agenda and we hope that we can reach clear results in this regard".
He also informed that as before, Iran will have, mutual, trilateral, and multilateral meetings with the JCPOA member countries on the sidelines of the extraordinary JCPOA meeting.
Araqchi left Tehran for Vienna early Sunday to participate in the extraordinary meeting of a joint commission on the 2015 nuclear deal – the JCPOA.
British naval forces unlawfully seized Iranian-owned supertanker Grace 1 and its cargo of 2.1 million barrels of oil in the Strait of Gibraltar.
Britain claimed the seizure was based on suspicions that the Iranian tanker was carrying crude oil to Syria in violation of European Union sanctions against the Arab country.
Iran has condemned the seizure of its tanker as "piracy", vowing to employ all its political and legal capacities to secure the release of the vessel and uphold its rights.