Syria
Deputy FM: Syria Needless of Iran's Military Support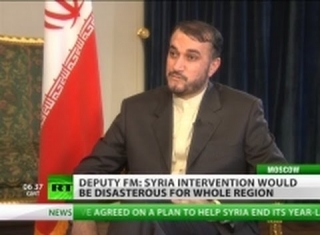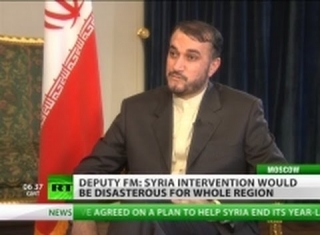 Focusing on Jalili-Ashton Wednesday phone talk, the Iranian Deputy Foreign Minister for Arab-African affairs said that nuclear negotiations priority of Iran's logical and inalterable policy is defending absolute rights in our peaceful nuclear rights.
Hussein Amir-Abdollahian, speaking at a press conference in Moscow Thursday evening, reiterated that his country believes "the only way to solve the issue of Iran's peaceful nuclear program is continuing the course of negotiations."
The deputy FM for Arab-Africa affairs noted that "if the western sides of the G5+1 would enter the negotiation table with Iran logically, the hopes for achieving result would be high."
He further emphasized that "the G5+1 must know that resorting to the pressure and threat approach against Iran in nuclear talks would yield no result for them."
Reacting to the comments made by the Head of the Russian Duma's International Affairs Committee Alexi Pushkov on possibility of delivering the S-300 air defense system to Iran, he said, "Iran has high defense capabilities today and even without that system our country is well capable of defending its boarders and its national sovereignty right."
Focusing on Syria crisis, Amir-Abdollahian said there is no military solution for Syria crisis and the issue can be resolved through a political approach, noting that Iran supports peaceful solution for Syrian crisis.
"Middle East is engaged in deep and speedy developments, including the Syria and Bahrain unrests; although Bashar Al-Assad's reform plan is in progress speedily but Syria is still involved in a war with terrorist gangs supported by outside countries, some US officials and regional countries are pursuing ways to equip rebels with semi-heavy weapons by US and some regional countries still continues," he said.
The high-ranking official underlined that the Syrian army was successful in its defense of Damascus and clearing of the Aleppo from terrorist gangs.
"Iran and Russia have similar stance toward the Syrian crisis and both stress the fulfillment of Bashar al-Assad's reform plan; Moscow and Tehran condemn foreign interference in Syria and warn about spreading of Syrian unrest to the other parts of the region; the efforts done by some UN Security Council member states and regional countries to bring Kofi Annan's peace mission to an end is sorrowful; Tehran and Moscow are still firm about their support for Annan's peace plan," Abdollahian pointed out.
"Bahrain political crisis has political solution and the military presence of Saudi Arabia is a strategic mistake; the use of poisoning gases against peaceful protesters in Bahrain which resulted in the death of many in that country is cause for serious concern; Tehran rejects paradoxical approaches toward regional developments; Iran wants the halt of violations against civilians and condemns foreign interference in both Syria and Bahrain," he added.
Amir-Abdollahian underscored that foreign military invasion against Syria is unlikely and Damascus is needless of Iran's military support, noting that it has been years that Damascus has been fully prepared to respond to any foreign raid, including war with Zionist regime.
Amir-Abdollahian travelled to Russia for a one-day visit.
Syria has been experiencing unrest since March 2011 with organized attacks by well-armed gangs against Syrian police forces and border guards being reported across the country.