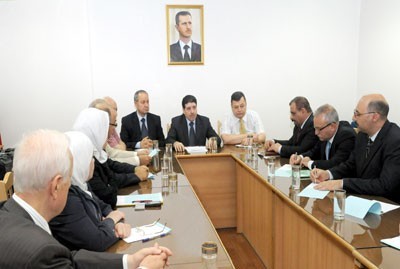 Syria and Iraq discussed means of boosting bilateral cooperation in medicinal industry and expanding trade exchange and creating prospects of scientific, research and technical cooperation in this field.

Health Minister Wael Halqi stressed the Ministry's readiness to cooperate with the Iraqi side through developing a suitable export formula and encouraging the establishment of Syrian medicinal investments in Iraq.
Halqi said that cooperation should not be limited to trade; it should rather include creating cooperation prospects in the scientific, research, technical and technological domains through exchanging field visits to both countries' drug factories, as well as exchanging expertise and information.
The Minister highlighted the importance of boosting trust in the Syrian drugs in the Iraqi market, being one of the most important markets for the Syrian drug industry in addition to Yemen, Algeria and Libya.
Adel Abdul-Mohsen, the Inspector-General at the Iraqi Health Ministry, voiced the Iraqi side's desire to move from the process of buying Syrian medicine to a real partnership with the Syrian side.
He said that the Iraqi market gives priority to the Syrian medicinal products due to its great trust in its quality, inviting Syrian businessmen and owners of drug factories to start investments in Iraq.
Syria's local drug production reaches USD 620 million, 220 of which are the volume of exported medicine and the other 400 are the volume of medicine distributed to local market. The Syrian-made medicine covers over 90 percent of the local market and is exported to 59 Arab and foreign countries.