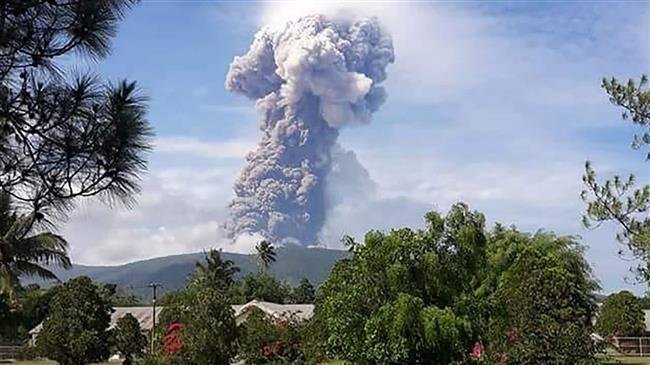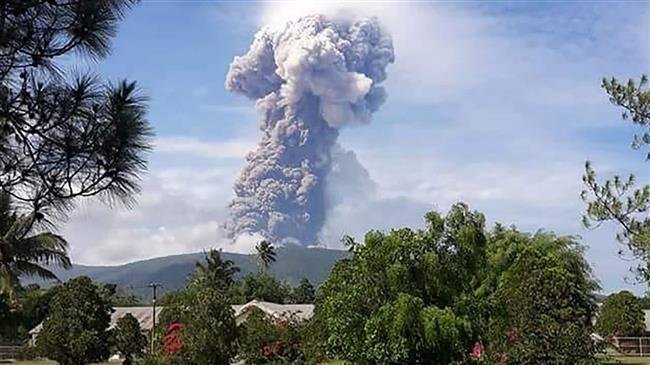 A volcano has erupted in the eastern Indonesian island of Sulawesi, only days after a devastating earthquake and a subsequent tsunami hit that same area, killing more than 1,400 people and leaving the island's survivors on a desperate struggle to stay alive.
Mount Soputan erupted on Wednesday morning, sending volcanic ash 4,000 meters into the air.
With a huge cloud of ash moving in the western and northwestern directions, authorities have warned people to stay at least four kilometers away.
The state disaster agency, however, said there was no need to evacuate the area for the time being.
"The volcano's condition is safe if it is outside the radius of 2 km from the crater," the head of Indonesian National Board for Disaster Management, Sutopo Purwo Nugroho, said in a Twitter post.
Still, residents living in the area are being advised to stay alert due to potential threats of lava flow and dangers from ash clouds. They are also being instructed to wear face masks to cover the nose and mouth, in order to avoid respiratory problems.
There have been no reports of casualties or damage from the volcanic eruption on the island so far.
Death toll at above 1,407
Mount Soputan is around 1,000 kilometers from the coastal city of Palu, which was hit by a devastating 7.5-magnitude quake and a following tsunami, which unleashed waves as high as six meters over the town on Friday.
The death toll from the disaster has risen to 1,407, said the disaster mitigation agency on Wednesday. More than 2,500 people were also injured.
The figure is expected to rise as rescue workers are still recovering bodies from under the rubble.
Many of those who survived the catastrophe are desperately searching for their loved ones, while others are trying to get onto cargo planes and warships and leave the town as they are increasingly frustrated about a lack of water, food, and fuel.
Indonesian President Joko Widodo, who was quick to visit hard-hit areas, has already authorized international aid and called on the survivors to be patient.
The president, who is preparing a bid for re-election next year, is under fire for his handling of the crisis as well as his government's failure to restart a tsunami warning system, which has been out of action since 2012.
Widodo said on Tuesday that the system had to be repaired and properly maintained.