Europe
Distribution of free Quran copies in Berlin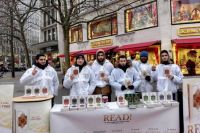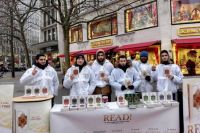 A group of German Muslim youths distributed free copies of the German translation of the Holy Quran in the capital, Berlin.
The initiative was implemented by the "Iqra'a (read) Islamic Campaign", al-Misri al-Yawm daily reported.
It was aimed at introducing true Islam and demonstrating the fact that Islam is a religion of tolerance and fraternity and is against violence and extremism.
Muhammad bin Rasoul who has translated the Quran into German is one of the organizers of the campaign.
It aims to extend its activities to other German cities including Frankfort, Hamburg and Bonn.
The move comes as anti-Islamic sentiments have been on the rise in Germany in recent months.
The anti-Muslim and immigrant group PEGIDA, which is a staunch opponent of Muslims and asylum seekers, is behind the growing Islamophobia in Germany.
Since October last year, the group has organized several rallies against what it claims to be "Islamification of the West".