Lebanon
DM: Iran Ready to Continue Military Aid to Lebanon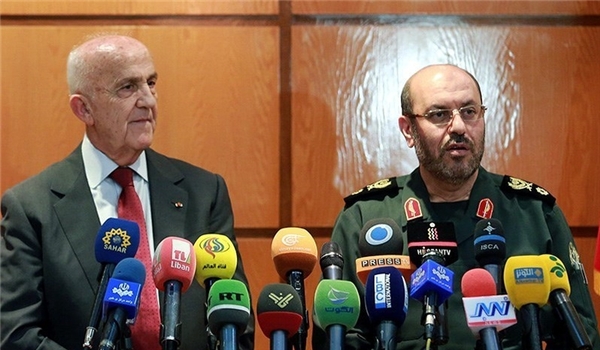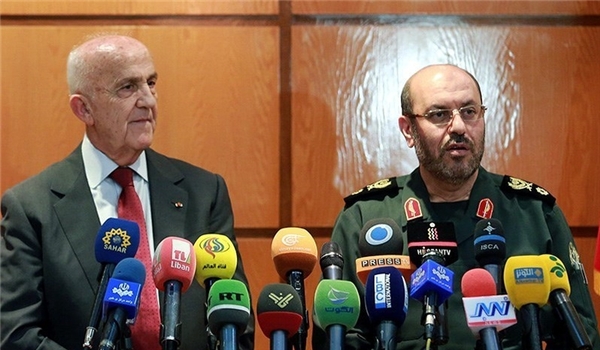 Iranian Defense Minister Brigadier General Hossein Dehqan underscored Tehran's preparedness to continue military aid to Beirut to help the Arab country confront the threats posed by the Takfiri terrorists and Zionists.
"We assume military equipment and enhancement of Lebanon's power against the Takfiri-Zionist streams and the ISIL as a responsibility," Dehqan told reporters on Monday after meeting with his Lebanese counterpart Samir Moqbel who has traveled to Tehran to discuss bilateral relations and Iran's military aid to Lebanon's army.
Dehqan said Iran's arms aid is now ready to be sent to Lebanon, explaining that most items in the aid cargo are tools and weapons appropriate for ground battles against terrorist groups.
"What we are supplying to the Lebanese army is a rapid reaction in response to a possible threat," Dehqan said.
"And we are ready repeat this aid in future to equip Lebanon against the ISIL and terrorist streams," he underlined.
Moqbel, for his part, said during his earlier talks with the Iranian defense minister, Dehqan has agreed with supplying a major part of the Lebanese army's needs.
The Lebanese defense minister arrived in Tehran on Saturday to confer with his Iranian counterpart and other high-ranking officials on the expansion of security and military cooperation.
At the end of his visit, the Lebanese defense minister is due to take Iran's arms aid to his country.
In a meeting with Moqbel on Saturday, Dehqan voiced Tehran's readiness to provide modern military equipment and strategic assistance to the Lebanese Army to enable Beirut to gain an upper-hand in its fight against terrorism.
"The Islamic Republic of Iran, with the aim of consolidating national authority and reinforcing security in Lebanon, is ready to supply the needs of the Lebanese army, and share its experience with this country's army for fighting terrorist and Takfiri groups," Dehqan said.
Iran attaches significance to its ties with Lebanon as an independent, stable and geopolitically-important country, Dehqan said, adding that Tehran backs the Arab country's security, independence and territorial integrity.
Moqbel, for his part, welcomed the expansion of ties with Iran in all fields, including defense sector, and said Iran's military aid to Lebanon as a friendly country is highly important due to special conditions in Beirut.
Moqbel's visit to Iran comes following last month's visit by Secretary of Iran's Supreme National Security Council (SNSC) Ali Shamkhani to Beirut, where he exchanged views with senior Lebanese officials on ways to bolster bilateral defense cooperation.
On September 30, Shamkhani said that Iran would soon supply the Lebanese army with necessary military equipment to help the country the security threats it is grappling with.
"Iran plans to gift a military tool or weapon to the Lebanese army in the near future," Shamkhani said at the time.
"The gift will be sent in the near future and it will be delivered to the Lebanese defense minister during his upcoming visit to Iran."
A few days later, senior officials in Beirut said Iran had presented a list of military tools and weapons to be gifted to the Lebanese army to help the country in its fight against terrorism.
Later, Moqbel told the Lebanese al-Manar TV that he would visit Iran at the head of a high-ranking military delegation to study Tehran's pledged arms aids to Lebanon.
"The details of the arms aids which Tehran is ready to supply to the Lebanese army will be studied in the presence of a delegation of high-ranking officers," he added.
Moqbel said that the Lebanese army would assess and study Iran's weaponry proposals after returning to Beirut.
He expressed the hope that other countries would also present Beirut arms gifts proportionate to the needs of the Lebanese army.
In recent months, Lebanon has been suffering from terrorist attacks by al-Qaeda-linked militants as well as rocket attacks, which are viewed as a spillover of the foreign-backed crisis from the neighboring Syria.