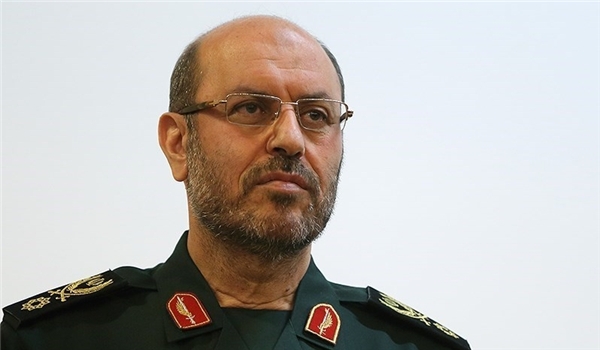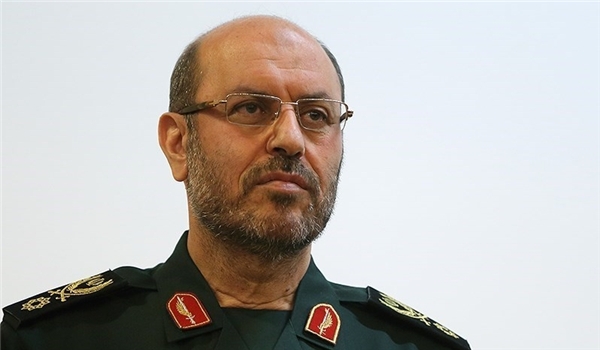 Iranian Defense Minister Brigadier General Hossein Dehqan underlined that his country will show a firm and strong reaction to the world powers' possible violation of the recent nuclear agreement.
"If the other side wants to breach its undertakings, we will give them a strong response," Dehqan said in an interview with Arabic-language al-Mayadeen news network on Sunday.
Also, addressing a ceremony in Tehran today, the defense minister dismissed western media and officials' remarks against Iran's growing defense and missile program, and said, "The Iranian nation doesn't need to receive a permission from anyone for its security and it goes after anything necessary to develop its might with a firm resolve."
Dehqan also stressed that Iran will continue its support for the resistance front and oppressed nations against the arrogant powers.
In relevant remarks earlier this month, Dehqan underlined that the country's defensive and missile capabilities would growingly increase regardless of any foreign pressures and resolutions.
"No element can weaken our resolve in the defensive field," Dehqan said in an interview with state TV.
"We will design and produce any missiles that we want proportionate to threats and we will conduct drills and tests in due time," he added.
Dehqan stressed that Iran would further boost the range of its missiles appropriate to possible threats.
He referred to the UN Security Council 2231 resolution which calls for limiting Iran's missile program, and said Tehran didn't and would not have any plans to manufacture missiles with the capability of carrying nuclear weapons but it would bolster its defensive capabilities similar to the past.
Also a senior Iranian military commander announced earlier this month that the Islamic Republic of Iran would continue improving its missile systems in a bid to enhance the country's defense capabilities against enemies' possible threats.
"The Islamic Revolution Guards Corps (IRGC), in full compliance with Supreme Leader of the Islamic Revolution Ayatollah Seyed Ali Khamenei's orders, will continue developing its defense capabilities and military might, specially the surface-to-surface ballistic missiles, and it will not compromise when dealing with the country's defense issues," Commander of the IRGC Aerospace Force Brigadier General Amir Ali Hajizadeh said.
Brigadier General Hajizadeh also announced Iran's plans to hold massive ballistic missiles drills in the near future.
"The IRGC Aerospace Force will hold a large-scale ballistic missiles war-games soon," Brigadier General Hajizadeh said.
He, meantime, reiterated that the IRGC Aerospace Force had successfully conducted all its missile tests over the past two years.
In March, Brigadier General Hajizadeh announced Iran planned to replace its Fateh, Qiyam and Qadr missile series with a new generation of missiles.
"We will abolish Fateh 110 missiles (a short-range, road-mobile, solid-propellant, high-precision ballistic missile with advanced navigation and control systems) as well as the mid-range (high-precision ballistic) Qiyam and Qadr (first generation of air-launched precision-guided) missiles to replace them with new missiles," Hajizadeh said in Tehran.
He referred to the unveiling of long-range ground-to-ground Soumar cruise missile system, reminding that the weapon system has been built under harsh sanctions.
Also in March Iran unveiled 'Soumar' missile system in a ceremony attended by senior military officials and commanders.
"The long-range ground-to-ground Soumar cruise missile system has been designed and built by experts of the defense ministry's aerospace industries organization," Dehqan told reporters after the unveiling ceremony.
Dehqan also announced the mass delivery of Qadr and Qiyam long-range ballistic missiles to the IRGC's Aerospace Force, and said these missiles are capable of destroying different types of targets under any type of conditions due to their tactical capability, sustainability in the battleground and radar-evading features.
He also announced that the defense ministry would deliver upgraded versions of these long-range and high-precision missiles to the Iranian military forces next year.
The Iranian Armed Forces have test-fired different types of newly-developed missiles and torpedoes and tested a large number of home-made weapons, tools and equipment, including submarines, military ships, artillery, choppers, aircrafts, UAVs and air defense and electronic systems, during massive military drills in the last few years.
Defense analysts and military observers say that Iran's war-games and its advancements in weapons production have proved as a deterrent factor.
Iran successfully tested second generation of Sejjil missiles and brought it into mass production in 2013.
Sejjil missiles are considered as the third generation of Iran-made long-range missiles.
Also, Iran's 2000km-range, liquid-fuel, Qadr F ballistic missile can reach territories as far as Israel.
Iran's surface-to-surface Sejjil missile, the long-range Shahab-3 ballistic missile which has a range of up to 2,000 km, and Zelzal and Fateh missiles have all been developed by the Aerospace Organization of the Defense Industries.
This is while the solid-fuel, two-stage Sejjil missile with two engines, is capable of reaching a very high altitude and therefore has a longer range than that of the Shahab 3 model.