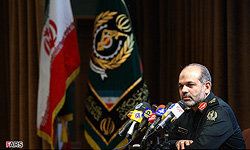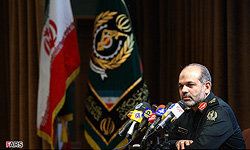 Iranian Defense Minister Brigadier General Ahmad Vahidi underlined that Iran supports a regional arrangement for protecting security in the region without foreign aid and interference.
"The Islamic Republic of Iran is strengthening its naval forces based on a doctrine which foresees growth of security in the high seas to help the regional countries indigenize security in the region," Vahidi told FNA.
"The message of our country's naval forces to the other countries is that regional security does not need involvement of foreign sides," the minister added.
The remarks by the Iranian minister came after Supreme Leader of the Islamic Revolution Ayatollah Seyed Ali Khamenei underlined the peaceful nature of Iran's presence in the high seas, but meantime said the growing might and power of the Iranian Navy, displayed through its presence in international waters, has worried the enemies of the country.
Addressing high-ranking officials of the Iranian Armed Forces in Southern Iran in July, Ayatollah Khamenei pointed to Iran's naval presence in the Gulf of Aden, the Red Sea, the Suez Canal and Bab al-Mandeb, and stated, "This presence has made enemies nervous and worried."
"The strong presence of the Islamic Republic of Iran's Navy in the high seas is promising and inspiring for nations," the Leader continued.
Meantime, Ayatollah Khamenei stressed the defensive nature of Iran's military activities, and said, "The Islamic Republic of Iran doesn't favor aggression, but it favors presence in the high seas because these seas belong to all and are a ground for transfer of culture."
"A naval force with such strategic features will play a decisive role in the country's politics, national dignity and honor, and independence," the Leader went on saying.
Iran's naval power has even been acknowledged by foes. In a Sep. 11, 2008 report, the Washington Institute for the Near East Policy said that in the two decades since the Iraqi imposed war on Iran, the Islamic Republic has excelled in naval capabilities and is able to wage unique asymmetric warfare against larger naval forces.
According to the report, Iran's Navy has been transformed into a highly motivated, well-equipped, and well-financed force and is effectively in control of the world's oil lifeline, the Strait of Hormuz.