Iran
DM Stresses Iran's Good Progress in Development of Space Program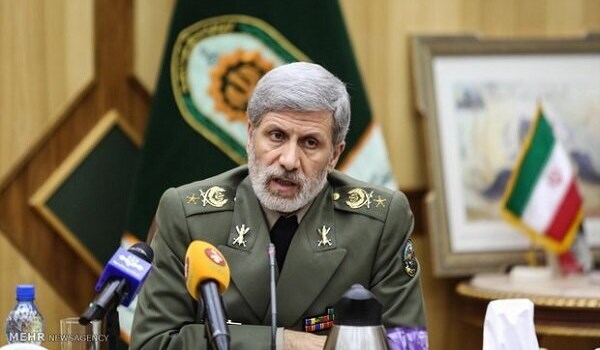 Iranian Defense Minister Brigadier General Amir Hatami underlined that his country has taken long strides in developing its space program and building satellites.
General Hatami made the remarks during a visit to the Armed Forces' Geographical Organization on Thursday.
He underlined that the trend of global threats is constantly changing due to the growth of technology, and said, "In recent years, the Geographical Organization of the Armed Forces has made significant national and international achievements in attracting elite youth and scientists, as well as benefiting from up-to-date knowledge."
"Today, due to features such as speed, accuracy, and ease of access, the use of mechanized information systems is increasingly considered," General Hatami added, saying, "The Geographical Organization of the Armed Forces plays a critical role, especially in the field of local information management."
He stated that space activities in any country show the depth of technology and the acquisition of strategic knowledge by that country, and said, "Islamic Republic of Iran has made great achievements in the fields of satellites and satellite carriers and the role of the Geographical Organization of the Armed Forces in this regard is very sensitive and critical with regard to missions such as observation and tracking of objects and space system in outer atmosphere, guiding indoor satellites and orbital traffic management and finally determining the position of satellites in space."
Iran is number one among the Islamic countries in area of aerospace technology, Head of Iran's Aerospace Research Institute Fathollah Ommi said.
"The Islamic Republic of Iran is number one Muslim country in terms of the aerospace technology," Ommi said on Saturday, adding that Iran's Aerospace Research Institute is among the top 20 world space institutes.
In January, Iran launched its Payam (Message) satellite into space with an aim to collect data on environmental change; however, technical problems that occurred during the final stage of the launch prevented the spacecraft from reaching orbit.
Late in April, the Islamic Revolution Guards Corps (IRGC) successfully launched and placed Iran's first military satellite named Nour 1 (Light 1) into the orbit.
The IRGC fired the satellite aboard Qassed (Carrier) satellite carrier during an operation that was staged in Dasht-e Kavir, Iran's sprawling Central desert.
The Launcher Qassed is a three-stage launcher using compound solid-liquid fuel.
The satellite was placed into the orbit 425km above Earth's surface.
The satellite was sent to the space on the anniversary of the IRGC establishment (April 22, 1979).