Middle East
Syria
Domino of Terrorists' Collapse in Eastern Idlib Continues, Syrian Army Frees More Regions
The countdown has started for the collapse of terrorists in Eastern Idlib as they are losing ground to invading Syrian Army after the strategic city of Ma'arat al-Nauman was seized by Damascus forces.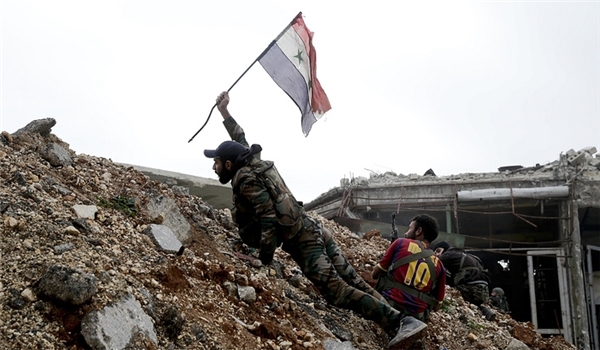 The situation in Eastern Idlib continues to worsen for the militants as Syrian army units have announced the capture of several areas on Thursday night.
Government troops continued their push North of Ma'arat al-Nauman, seizing several areas in the Eastern part of Idlib. According to a military source, the Syrian Army captured the towns of Kafr Batikh, Qomhanah, Al-Hartimah, Tal Mardikh, and Jawbas after overrunning the militant defense lines.
It comes as Syrian army forces makes a close approach towards the strategic city of Saraqib in the Northeastern countryside of the Idlib province. The crossroad city is a high priority for the Damascus government, as two major highways go through Saraqib, including the primary route to Aleppo from Idlib. The Syrian Army is now 3 kilometers away from the key city. Syrian army troops are looking to capture the dozens of villages and towns left under militant control East of Ma'arat al-Nauman before they make an attempt to capture Saraqib.
The fresh military operation by Damascus came after those positioned in the de-escalation zone failed to honor a ceasefire brokered by Russia and Turkey and continued to target civilian neighborhoods. The Syrian army forces resumed their military operation against militants in Idlib, over multiple ceasefire violations.
In mid-December, the Syrian Army started a new military operation in Southeastern Idlib to clear the area of terrorists. Days later, over 40 villages in Idlib had been retaken by government troops.
The Russian Reconciliation Center for Syria has repeatedly called on militants to stop fighting and peacefully engage in conflict resolution.
Idlib is the last stronghold of militants in the Arab republic. According to Syrian President Bashar al-Assad, liberating the area is essential to putting an end to the country's conflict.