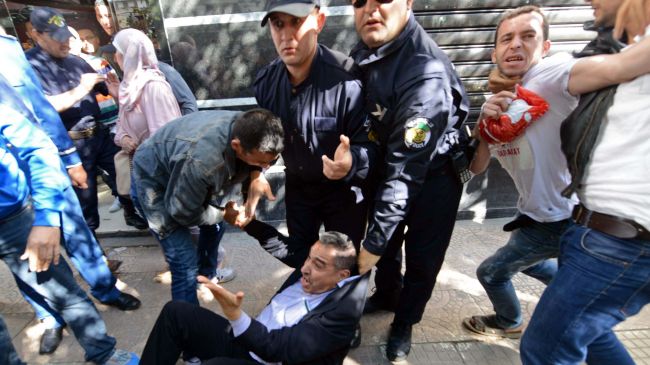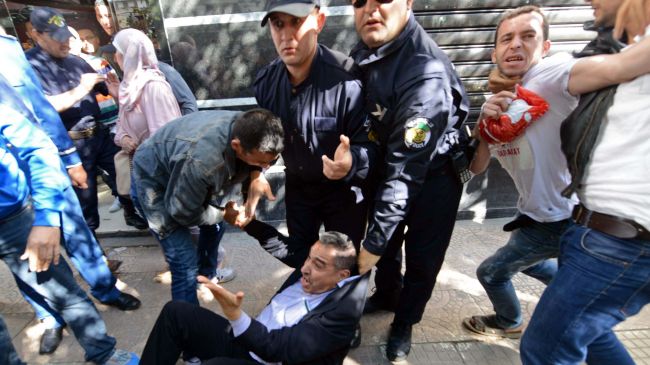 Dozens of people have been wounded in Algeria's northern region of Kabylie during clashes that broke out between security forces and youths opposed to the Thursday presidential election.
The violence erupted on Thursday when separate groups of youths seeking to disrupt voting in the town of Bouria attacked polling stations in three localities shortly after they opened at 0700 GMT.
Local sources said 41 people, including 28 policemen, were injured in the incident and voting temporarily suspended in the affected polling places.
Police also arrested five protesters shouting anti-government slogans amid tightened security in the capital.
Later in the day, Interior Minister Tayeb Belaiz said the election was taking place "in good conditions" in the 50,000 voting centers stationed across the country, reporting a 9.5 percent turnout two hours into the vote.
President Abdelaziz Bouteflika, who suffered a mini-stroke last year, cast his ballot from a wheelchair on Thursday.
The 77-year-old president is widely expected to beat five other candidates in the presidential race and win a fourth term in office.
Meanwhile, youth protest group Barakat and a coalition of five opposition parties have been calling on voters to boycott the election.
Bouteflika's main electoral rival, Ali Benflis, has repeatedly warned of fraud during the election campaign, describing it as his "main adversary" in the contest.
There were reports of sporadic election-related violence in Algeria just weeks prior to the election.
On Wednesday, Algiers police used force to disperse a group of opposition activists protesting against growing unemployment and economic woes in the country.